Samsung Hanwha WiseNet III Box IP Camera Overview
Hanwha has a wide choice of box IP cameras that are great for applications that require special lenses and enclosures. The WiseNet III series includes remote focus. They all include the option for p-iris lenses, making then the perfect choice when you need to increase depth of field at low light levels. All these IP cameras are powered using PoE.
These full featured IP box cameras provide excellent low light performance, with wide dynamic range, internal memory slots, and video analytics.
Remember that the network attached cameras are just one part of the surveillance and security system. You also need video management software to record your video, the right lens, computer and enclosures. Contact us and we will make sure you have everything you need.
More about More Hanwha IP Cameras | Compare Other Manufacturer's Cameras
---
IP Box Camera Specifications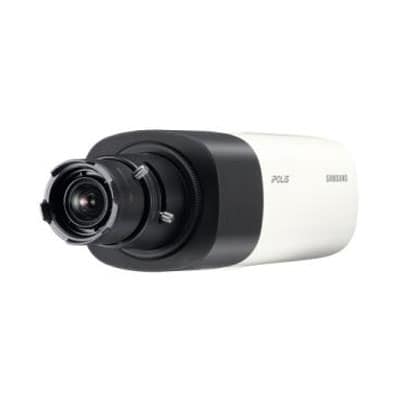 These IP cameras include excellent features, such as:
– Up to 60 fps
– High end models include remote focus
– Wide Dynamic Range
– Built-in micro SD/SDHC/SDXC slot
The lens is not included. You can select from many different lenses.
Note that the highest resolution cameras, such as the 4K camera, require special high resolution lenses. Please contact us for help since you need to make sure the lens matches the sensor size, and resolution as well as meeting your field of view requirements.
You can select from many different types of outdoor enclosures for different applications. There are enclosures for very low temperature, for corrosive environments of salt air to hazardous environments that require explosion proof enclosures.
With the two-way audio support and IO connections they can be used in a variety of applications. Please contact us for your price.
Box IP Camera Specification and Comparison Table
Model
Resolution
Light Sensitivity
SNB-5004
Discontinued
1.3 MP, 1280 x 1024
Color: 0.05Lux (1/30sec, F1.2, 50IRE), 0.0008Lux (2sec, 50IRE)
BW: 0.005 lux (1/30sec, F1.2, 50IRE)
WDR: 130 dB
SNB-6004
2 MP, 1920 x 1080
Color : 0.1Lux (F1.2, 50IRE),
B/W : 0.01Lux (F1.2, 50IRE)
WDR: 120 dB
SNB-7004
Discontinued
3 MP, 2048 x 1536
Color : 0.1Lux (F1.2, 50IRE), 0.06Lux (F1.2, 30IRE)
B/W : 0.01Lux (F1.2, 50IRE), 0.006Lux (F1.2, 30IRE)
WDR: 120 dB
SNB-8000
Discontinued
5 MP, 2592 x 1944
Color : 0.2Lux (1/20sec, F1.2, 50IRE), 0.005Lux (2sec, F1.2, 50IRE)
B/W : 0.02Lux (1/20sec, F1.2, 50IRE), 0.0005Lux (2sec, F1.2, 50IRE
WDR: 60 dB
SNB-9000
12 MP, 4,168 x 3,062
Color : 0.28Lux (1/30sec, F1.2, 50IRE), 0.01Lux (1 sec, F1.2, 50IRE)
B/W : 0.03Lux (1/30sec, F1.2, 50IRE), 0.001Lux (1 sec, F1.2, 50IRE
Contrast enhancement
---
Common Specifications
Lens: C/CS mount, supports Manual / DC auto iris, P-Iris
Focus: Simple focus (Motorized V/F) / Manual, Remote control via network
Audio: Selectable (Mic in / Line in), Supply voltage : 2.5V DC (4mA), Input impedance : approx. 2K Ohm; Line out (3.5mm mono jack), Max output level : 1 Vrms
Input / Output: 1/1
Edge Storage – SD card slot: Micro SD/SDHC/SDXC
Video Analytic functions: Tampering, Virtual line, Enter / Exit, Appear / Disappear, Audio detection, Face detection with metadata
Operating temperature: -10°C ~ +55°C (+14°F ~ +131°F) / Less than 90% RH
Input power: 24V AC, 12V DC, PoE (IEEE802.3af class3), 11.4 W
Dimensions: 73.1 x 66.6 x 147.8mm (2.88″ x 2.62″ x 5.82″)
---
Pricing changes frequently so it is best to contact us for a quote. We will also help you with video recording systems and everything else you need for your complete IP camera system.
---
Technical Support
IP camera systems can be complex because they include many different components that have to work together. Kintronics is a resource for engineering and integration of all your security projects. We can design your complete system so don't hesitate to contact us for assistance.
After purchasing your system we make sure that it works exactly the way you expect. You can contact us for help with your installation and any technical support you may need.
We provide technical support and warranty support. Contact us at 1-800-431-1658 or 914-944-3425 whenever you need assistance.