IP Network Attached Paging and Intercom Systems
IP Based Paging Systems for Campus-Wide Announcements, Intercoms and Emergency Paging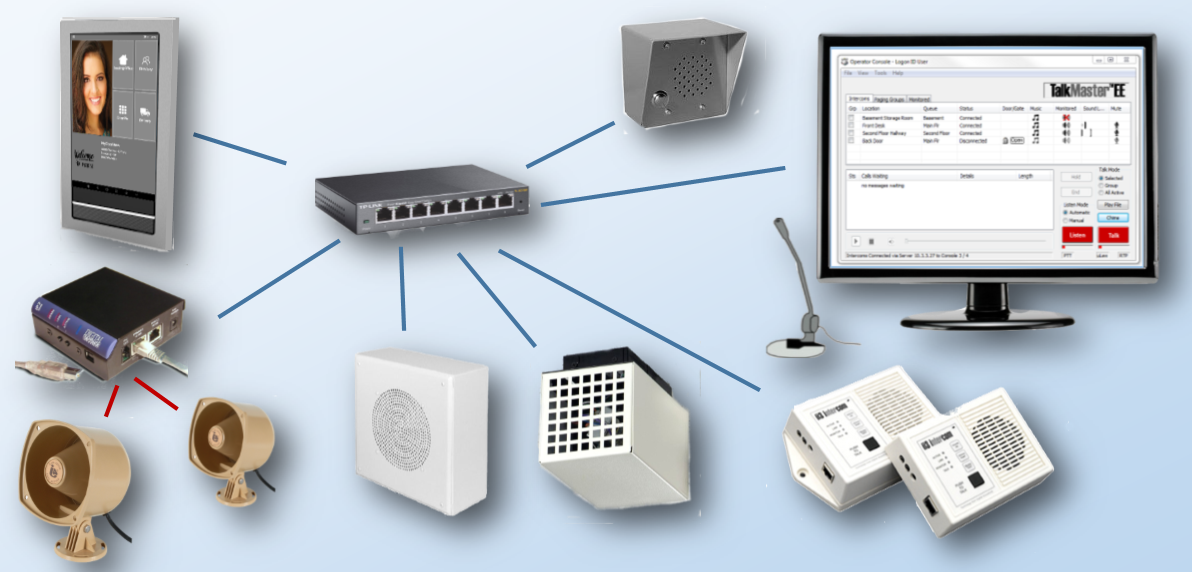 Paging System Summary and Overview
An IP Paging System is an audio system consisting of network-attached intercoms and speakers that amplify the sound of a human voice, music, or other sounds. It also includes Audio Management Software.
Increased safety is provided by directing pages to exactly where you need the message. IP paging with zone control allows you to send a message to one room or the entire campus. This is essential in an emergency.
IP speakers or small IP amplifiers can be placed wherever you have a network drop. No need for long speaker wire connections from a large central amplifier. Power is provide over the Network (PoE). Installation is easy.
TalkMaster software runs on your PC, manages the system, and provides digital voice quality sound wherever you need it.
The IP paging and intercom system is excellent for new and replacement installation. The latest campus-wide IP Paging and Intercom systems are easy to install using your existing Ethernet network.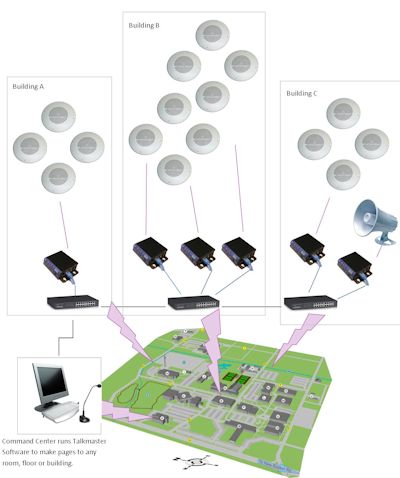 Features
The paging and intercom systems can be located indoors or outdoors; anywhere there is a network drop.
Easy installation – Since the intercoms and speakers are powered over Ethernet (PoE), the installation is easy.
High level of reliability and failure monitoring. To learn more please read our article Reliability and Redundancy
Automated broadcasts using the optional if-then tables. Announcements can be made in response to external triggers.
IP cameras can be added to create a complete surveillance system.
Scheduled announcements and Bells using Bell Commander Software.
Wired or wireless connections for flexible installation
Zones extend over networks and span the Internet
Supports 1000's of stations, without head-end hardware
Highly configurable zone template mapping
The powerful integrated amplifier provides loud, crisp quality sound
Interface to a choice of speakers: analog overhead loudspeakers, wall-mounted, outdoor horn speakers, etc.
Fast to deploy, easy to maintain
Audio monitoring and intercom capability at any end-point
Patent-pending Digital Acoustics® technology
Did you know that each IP speaker is one zone. This means you can page a single speaker or notify everyone in the building to leave? Take a look at the article Security Questions and Answers.
---
How to purchase your Paging and Intercom Systems
Note: we stopped providing on-line ordering because it did not provide our customers the best way to purchase a complex system.
Here's how to order the right system for your application:
Call us at 914-944-3425. We are available 9 am to 5 pm EST, Monday through Friday, except holidays. if we are not there leave a message and we will call you back.
If you don't want to call, fill out our request form. We will get back to you very quickly.
You can also send us an email

[email protected]

We will determine your requirements, provide suggestions with pros and cons, and pricing so you can make an educated decision.
If the equipment we provide doesn't meet the manufacturer's specifications, you can return it.
We look forward to talking to you about your Paging and Intercom Systems.
---
IP Paging Amplifiers
The IP7 IP Audio Amplifier module is the core hardware component of the Digital Acoustics' paging system.
The IP7-FX uses PoE power from the network and provides up to 8 watts of sound to the attached speakers. It has dual Ethernet ports and supports two-way audio.
The IP7-SS40 provides up to 40 watts of audio.
The number of speakers attached to an amplifier is determined by the sound volume levels required. For example, the IP7-SS40, with a maximum output of 40-watts (using an 8 Ohm speaker), is capable of driving paging horns with sound pressure levels in excess of 120 dB SPL.
This is about the sound of nearby thunder or the sound made by a child screaming. You don't want to listen to that too long because it will hurt your ears. For these higher output applications, an external power supply is required.
IP Amplifier Models
| Model | Description |
| --- | --- |
| IP7-FX | 8 Watt audio amplifier with audio-in, Dual Ethernet port, PoE, 2-Way Audio. It can be used as an intercom interface or 8W speaker driver |
| IP7-SS40 | 40 Watt audio amplifier, Powered using a power supply, single Ethernet port. |
Product sheets: IP7-FX | IP7-SS40
---
IP Speakers with Built-In Amplifiers
Powered IP Speakers connect directly to the network are the simplest and quickest to install. No need to run speaker wires, just plug the speaker system into your PoE type network drop and you're done.
It's easy to install. These speakers have built-in amplifiers that provide 8-Watts of power from their PoE connection. The amount of sound (dB) available depends on the type of speaker used. If you need more sound power then you require a separate amplifier and speaker.
IP Speaker systems that connect directly to the network are the simplest and quickest to install. No need to run speaker wires. Plug the speaker into your PoE-type network drop, and you're done. You can install one to hundreds of speakers around your organization. Each speaker is a defined zone you can select using the audio management software.
These speakers have built-in amplifiers that provide 8 Watts of power from their PoE connection. The amount of sound (dB) available depends on the type of speaker used. If you need more sound power then you require a separate amplifier and speaker.
Here are some examples of integrated powered speakers that are powered over the network using PoE:
Model

Description

Sound Output

Spkr-IP SYS1

8″ Wall, vandal resistant. Frequency Response: 65 Hz – 17 kHz EIA 462A Standard
Sound rating: 92dB SPL, 1W/ 1M.

99 dB SPL, at 5W/ 1M.

Spkr-11-VCP

Bi-directional, wall mount, Size 4" Square, Moisture Resistant. dual 4-ohm Speakers, Power Rating 10 watts each. Magnet Type and BeFe Ceramic, Weight 4.8 oz. Dispersion of 130 degrees. Frequency Response 130 Hz – 9 kHz. Hallway length for optimum coverage 40 – 110 feet.
92 dB SPL at 1 Watt 1 Meter.

Maximum SPL 98 dB SPL at 8 Watts 1 Meter

SPKR-IP System 12

Drop-ceiling tile IP speaker with built-in amplifier. A complete loudspeaker assembly, with 8" frame, perforated steel baffle and integral back box. 65 Hz-17 kHz EIA 426A Standard. 100° included angle -6 dB/ 2 kHz.
92 dB SPL, at 1W / 1M

99 dB SPL at 5W / 1 M

IP-HORN-PoEKIT

Weatherproof powered horn kit, 107 dB at 1W, 1 M (500 – 5000 Hz). Compact re-entrant compression driver horn. Uses PoE network attached IP7 amplifier.
107 dB SPL at 1 Watt 1 Meter.

Maximum SPL 116 dB SPL at 8 Watts 1 Meter
---
Powered speakers for IP Cameras
Powered speakers can also be attached to an IP camera. The IP camera must support audio out, and the video recording system must also have audio support available.
For more information about powered speakers used with IP camera systems, see our IP camera accessories page.
---
Just the Speakers that Connect to Your Amplifiers
Every acoustic environment is unique and using the right speakers is important in providing intelligible public address solutions.
Kintronics offers a wide range of speakers. You can select wall-mounted speakers, drop-in ceiling speakers, outdoor horns, and even speakers that direct sound in two directions down a hallway.
Before selecting the speaker Kintronics will help you do a sound level analysis. We will make sure that you have the right sound level for each area.
Choose from:
8″ Ceiling Mounts – Round and Square
Surface Mounted Enclosures – Square and Sloped
Internal Horns
External Paging Horns
Corrections Grade
Solutions (Vandal Proof)
Weather Proof & Flame-retardant
Add any of our other portable PA systems for high-quality sound Sample Speaker Models:
Here are some examples of the speakers available:
Speaker Models
| Model | Description |
| --- | --- |
| KLIS8T72 | Drop ceiling loudspeaker assembly |
| Mini400K-8 | Weatherproof horn, 120 dB output sound |
| KPBC6T72K3 | Wall-mounted 6-inch speaker |
| Cell10BDT | Bidirectional extruded aluminum sound projector. Two 5 Twin-cone Speakers |
We have many more speakers to choose from. Contact us for the complete list
---
IP Intercoms are Network Attached
Did you know that intercoms allow that you to notify security if someone needs help?
Intercoms allow you to communicate to a central safety control station.
You can communicate from a management console to an intercom in a specific room, or to everyone in the organization. You can reach any network-attached intercom.
There are indoor and outdoor models available. For example, you can place intercoms in each classroom or office or even use it at a door to control entry.
Intercoms can also be used to control visitors at the door.
There are a number of different network-attached intercoms. They are all powered using PoE or optional power adapter for easy installation. Select desktop, surface mount models, or outdoor intercoms. The IP7-EDW solutions are designed for desktop convenience, and the IP7-ESW is designed to be surface mounted in secure locations. Also available in a Black desktop model (EDB) or surface mount (ESD). For more details take a look at the Indoor Intercoms Product Specifications, or the Outdoor Intercoms Product Specifications.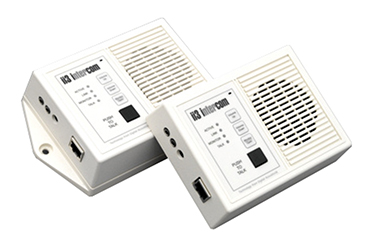 Intercom Features:
High quality integrated speaker and microphone
Four-button controls include Volume Up/Down, Monitor/Open, and Push-to-Talk
Four LED indicators include Active, Link, Monitor and Talk
TalkMaster Audio Management Software is included
Power-over-Ethernet (PoE)
3.5mm external jacks for Mic In and Speaker Out
Relay to control the electric lock
Outdoor intercoms are available with a protective enclosure or ready to be mounted to an electric box.
TVIP-intercomPA-O-2G: 1 watt, PoE, Flush-mounted Intercom for 2-Gang installation with stainless steel front plate.
TVIP-intercomPA-O-BB: 1 watt, PoE, surface mounted intercom with metal back-box and hood
The model TVIP-IntercomPA includes the outdoor-ready enclosure, network intercom module, and analog panel with a call-button. For more details take a look at the Outdoor Intercoms Product Specifications. The glowing LED Push-to-Talk button provides a display of the status of the intercom.
Intercoms for Door Access Control
Network Attached Intercoms: Outdoor intercoms can also be used to provide manual door access control.
You can select an intercom by itself, or integrated with an IP camera system, or even integrate with an IP door access system. Take a look at all the intercoms that can integrate with IP Camera security systems.
Intercoms for Apartments: Our multi-tenant intercoms are designed for apartment buildings and other multi-tenant businesses. These mobile-enabled intercom systems include a built-in camera and allows you to answer the door on your smartphone or mobile device.
These special intercoms are easily connected to an electric lock through a relay or integrated with an IP door access control system.
Read more about apartment intercoms …
---
Product Highlight of the Month
How to Select the Right Speaker
There are several types of IP paging speakers available. There are ceiling, wall, hallway, and horn-type speakers. Paging speakers are selected based on the sound level, dispersal of sound, indoor and outdoor type, and mounting requirements.
There are a variety of speakers to choose from. The choice depends on the sound level required, the dispersal of sound, and the physical environment.
For example, the Spkr-IP SYS1 wall speaker uses PoE for power and is easy to install. This cost-effective wall speaker is ideal for business or institutional settings to provide clear audio PA, general announcements, and mass notifications.
---
The Pros and Cons of IP Paging Systems
IP audio paging is a system that uses an IP network to transmit audio signals to speakers. It is an efficient and reliable way to send audio.
This article describes the pros and cons of IP paging systems.
IP audio paging systems are the latest method of transmitting audio to powered speakers and intercoms. They are easier to install than the older analog systems with a central amplifier since they use the network infrastructure for wiring rather than running wires from a central location. IP audio paging systems use digital signals, which are more efficient than analog signals. This means IP audio paging systems can transmit more audio information with less bandwidth.
---
Paging Software
TalkMaster Focus is the control and management software for paging and intercom communications. It runs on your Windows computer and allows you to make pages or to communicate to intercoms on your network. This suite of software is designed to manage intercom and public address operations over IP networks.
TalkMaster Focus is the control and management software for paging and intercom communications. It runs on your Windows computer and allows you to make pages or to communicate to intercoms on your network. This suite of software is designed to manage intercom and public address operations over IP networks.
There are a number of options. TalkMaster-Solo comes at no charge with your amplifiers or intercoms and allows you to make announcements to all your IP amplifiers and IP intercoms on the network. Talkmaster-Enterprise is a licensed software product, that adds additional capability such as allowing you to make pages from multiple computer consoles, and adds optional modules.
Talkmaster-Solo
This full-featured control software comes without charge with any amp or intercom. It allows you to make a page or talk to all your intercoms from a single computer console. It includes a sophisticated fail-over feature so if the first console is not operating it automatically switches to a secondary or even third level computer console. This paging application software includes functions such as talk and listen, page, and manage intercoms and amplifiers from your Windows PC. Functions include:
Selective or master call to page all stations
Master control and auto-detection
Remote door release and GPIO control
Record, log, and archive audio sessions
Audio file playback (.WAV)
Remote and local digital volume control
Talkmaster-Enterprise
For sophisticated users and applications, TalkMaster Enterprise Edition provides flexibility in addressing the special needs of complex, multi-station, multi-operator, and multi-site installations. The Talkmaster Focus suite of applications provides additional capability such as automation tools, vision, and VoIP connect.
Provides full intercom support: A powerful set of intercom call queue rules establishes site-specific call response hierarchies. You can communicate with intercoms from multiple sites and consoles, regardless of geography. TalkMaster-EE's server-based topology can support 15,000 audio endpoints.
Support multiple Sites: This IP paging and Intercom system can be used in a single building, a campus, or multiple sites— locally or globally.
Records Transactions: Every substantial aspect of an intercom call transaction; among the information gathered and available on the Administration Console Screen are:
Console operator and administrator sign-in and sign-off,
Call start/stop including source,
Recording of both audio paths, and
Intercom call station status
Summary of TalkMaster Focus Suite Modules:
Enterprise Operator | Automation | Video | VoIP Connect | Bell Scheduler
Focus Enterprise Operator
License for additional operator consoles. This allows you to use more than one Windows computer to make pages.
Focus Automation Tools
This adds Alert Management and Events modules to the Focus Operator.
"If this…then that" capability
Trigger pre‐recorded audio files
Alerts for system interruption
Reads RSS/CAP: Atom Feeds
Scheduled Actions
Runs in the background
The Events Module adds the ability to monitor events from IP Endpoints and send audio or email messages in response to them. For instance, you can connect a door switch to an IP Endpoint and play an automatic audio message when someone opens the door.
The Alert Manager module adds the ability to monitor RSS and CAP/Atom feeds and automatically convert the associated text messages to speech so they can be played on Digital Acoustics IP Endpoints. For instance, this can be used to announce severe weather alerts from the National Oceanic and Atmospheric Administration. Or create your own RSS or CAP/Atom feed to create custom on-demand announcements.
Focus Video
This module allows operators to view live video from IP Cameras associated with IP audio endpoints. Supports industry-standard RTSP based IP cameras.
By adding the Vision license to TalkMaster FOCUS, all Operator Consoles can see who they are talking to. Visually verifying a guest or intruder can be the difference between safety and danger.
Vision provides the ability to:
View an RTSP based IP Camera that has been associated with an IP Intercom
Continuously monitor up to four RTSP based IP Cameras
Focus VoIP Connect
FOCUS VoIP Connect is an optional component that provides SIP 2.0 integration with industry-standard SIP 2.0 VoIP Telephone systems. TalkMaster FOCUS VoIP Connect adds the ability to assign an "extension number" to one or more IP Endpoints so they can communicate with phones on the SIP-based phone system.
Add Bell Schedule Control Announcements
Now it's easier than ever to add scheduling software for school bells. The familiar ring now can be replaced by chimes, music, or even customized sounds like chirping birds, all made possible using BellCommander. Learn more…
---
Why Use IP Based Audio Systems
This IP Audio system includes speakers, intercoms, audio amplifiers, and management software.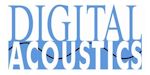 Very easy to install because it uses your network infrastructure
Amplified integrated speakers connect directly to PoE network connection
Intercoms connect to your PoE network
Provides centralized paging and intercom from your Windows PC
Create as many zones as you need
Select IP amplifiers with the power required for each location
Add Bell Commander scheduling software that provides automated announcements
Whether your application is a parking facility, educational institution, corrections, high-security port authority, or many other applications, this is the best system for you.
---
The integration of various security and communication systems, such as IP cameras, IP door access control, intercoms, personal emergency panic buttons, emergency broadcast systems, and emergency paging systems, provides a comprehensive approach to safety and security. Read more…
These network-attached IP based public address and intercom systems improve campus security by adding emergency alert capabilities. They provide communications to multi-building or multi-campus school or corporate environments.
---
The IP-PACast emergency notification system provides important text and audio announcements to a large group of people. It alerts them to pending or existing emergencies. The system consists of a web interface that allows you to send trigger messages to target groups that receive the notification.
Audio and other messages can be sent from a computer, mobile device, automated service, or even Microsoft Teams to computer IP paging devices on your network or mobile devices.
IP-PACast uses a simple interface to upload users and devices. The users and the devices can be assigned to groups or zones, so the right people are reached.
---
The biometric door reader provides face authentication and temperature monitoring. It can prevent the entry of a person that has an elevated temperature or if they are not wearing a protective face mask.
This contact tracing system provides the automated health tracing required in today's environment. The system provides accurate, reliable, and easy-to-implement contact tracing in the workplace.
---
Resources for IP Paging Systems
Why Purchase Paging Systems from Kintronics
The Kintronics Paging over IP System is an innovative solution that enables businesses to quickly and easily send paging messages over the network. This system is designed to work with your existing network and allows users to send paging announcements to any room, area, or building where an IP speaker or intercom is connected. The system is easy to install and configure, and provides reliable, secure messaging with minimal disruption to existing infrastructure. This system also offers features such as scheduling, volume control, and multiple user levels, making it an ideal solution for businesses of any size.
The following resources can be used to help you understand the technology. Contact us for help with your system. Our engineers will make sure you get the exact system you need.
Technical and Application Articles
The IP paging and intercom technical articles describe how the technology works, how to install the intercom and paging systems, as well as providing buying guides.
The article How Network-Attached Audio Works describes how network-attached paging systems work. It explains how the sound waves from someone talking or singing are picked up by a microphone and converted to analog electric signals. This electric signal can be sent to an amplifier and then to a speaker so that many people can hear the sound. When we convert the analog signal to a digital signal and connect to the IP network, we can send sound around the world.
IP Paging and Automated Announcements. One of the most helpful features of an IP Paging system is its ability to make automated announcements. You can push a button and make a pre-recorded page, or automatically notify everyone about a weather emergency received from the national weather service.
Panic Buttons and Security, Panic buttons can be added to security systems to increase safety and security. It can be integrated into a security system such as surveillance camera systems, Paging systems, and door access control systems.
IP Paging Systems for Schools
IP paging speaker placement and sound volume settings are key to providing clear sound in the school. Whether there is a general announcement or an emergency message, it's important that the instructions can be heard and understood by everyone.
How Network Attached IP Paging Systems Work, You may have heard about Voice over IP or VoIP, well now it's paging over IP. This new public address system provides voice and intercom over the network. But how does this all work? This article describes how this technology works.
How IP Powered Speakers Work: IP powered speakers connect to the network and use PoE for power,
How to Design Your IP Paging System: The secret to designing your sound system is to start at the ears.
Comparison of IP Intercoms: The pros and cons of different types of IP intercoms.
Emergency IP Paging Using Panic Buttons: This article describes how an IP PA system can increase safety and security.
Comparison of the Classic Paging System to the New PA over IP System This article Reviews and Compares the analog paging system to the new IP paging system. It compares the cost of installing a classic paging system that uses a large central amplifier to the latest network-attached PA systems that use distributed small amplifiers.
How Network Attached Amplifiers and IP Intercoms Work. How do the IP audio systems actually work? This article helps you understand the technology.
Intercoms for IP Cameras An intercom can be used to manually control a door. It can be used with an IP camera so you can talk and see who's at the door.
Let the Recorder Beware This article discusses the legal issues of recording audio.
Selecting the Right Speaker How to get the best sound requires some planning. Understanding all the speaker specifications will help you make the right choice for each area.
What is the Best Sound Level for Your Speakers? or How Loud is Loud? This article discusses how to determine how loud your PA system should be and how to specify the type of equipment you need.
Kintronics Technology Notes Newsletter
If you would like to have our technical newsletter sent to you, just fill out the form. Out Technical Notes newsletter is filled with articles about how the technology works and examples of how it is used. It also includes some great technical jokes and cartoons.
Technical White-paper
How to Create the Complete Safety and Security System. This white-paper describes how to make your world safer by integrating IP camera systems, access control, and emergency paging systems.
Blogs
Our blog provides up to date technical insights about the technology. It includes articles about the latest network-attached technology and how it works.
These videos provide an overview of the technology. Take a look at our latest video describing the IP camera system components and setting objectives. More…
How to Purchase
We sell all over the world. Please contact us for the latest pricing and shipping costs. More importantly, you can also receive our free consulting that assures you purchase the right things. Please call us at 800-431-1658 in the USA, or at 914-944-3425 everywhere else, or use our contact form.
Technical Support for IP Paging and Intercom Systems
Paging and Security systems can be complex because they include many different components that have to work together. Kintronics is a resource for engineering and integration of all your security projects. We can design your complete system so don't hesitate to contact us for assistance. After purchasing your system we make sure that it works exactly the way you expect. You can contact us for help with your installation and any technical support you may need. We provide technical support and warranty support. Contact us at 1-800-431-1658 or 914-944-3425 whenever you need assistance.