Access Control Systems
A Door Access Control System is a set of devices that control physical access to a building, room, or other area. It consists of door readers, electric locks, a controller, credentials, and access control management software. Its primary purpose is to restrict access to authorized personnel and prevent unauthorized entry.
An Access Control System uses door readers that detect the unique identification numbers provided by credentials. A credential can be an RFID card or keyFob, a person's smartphone, or their biometric (for example your face or fingerprint). A door access control system also includes Access Control Management Software that manages all aspects of the access control system. It determines who can enter, when and what door they can use. When a registered credential is detected the controller releases the electric lock. Access control systems can be used to monitor who is entering and leaving a secure area, generate reports, and provide data for security analytics.
Kintronics provides everything you need to create an advanced door access security system.
---
Quick Links:
---
We provide Free Consulting so that you get exactly what you expect
---
How to Purchase Your Access Control System
Purchasing the right door access control system can be confusing, so our technical team ensures that you get exactly what you need. We review your application, discuss the pros and cons of a number of solutions including your budget, Here's what you do:
Call us at 914-944-3425. We are available 9 am to 5 pm EST, Monday through Friday, except holidays. If we are not there, leave a message and we will call you back.
Or, fill out our request form, or send us an Email

[email protected]

When you send a message or call us, real people answer your request. They will make sure that you receive exactly what you need.
If you need help understanding the technology, please Read the Access Control Overview or use the access control resource information.
We will provide suggestions with pros and cons of the different access control systems, to make sure you get exactly what you need at the lowest price.
Why don't we have an on-line store? Because we found that it is not the best way for our customers to purchase the right solutions. It's always best to talk to us about your requirements so we can suggest the door readers, credentials, electric locks, and access control management software.
Did you know that you can install one door reader at a time? The new IP Reader-Controllers connect to the network and are intelligent. One of the most significant advantages is the ability to install one door at a time. Please read our article, Scalable Door Access Control to learn more.
Network Attached IP Door Access Control Reader-Controllers
There are several IP reader-controller solutions. You can select the Isonas IP door reader-controllers that are excellent for small to medium systems, or the Hartmann Controls Enterprise access control system that includes advanced capability such as elevator control, and integration with IP camera systems. If you need additional security, you can select the biometric reader-controller access control system.
You can select IP readers that work with RFID credentials, Bluetooth connected Mobile Credentials, or even biometric readers such as fingerprint, or facial recognition. Door access control has become very flexible and reliable. It keeps your facility safe. For a review and comparison of different access control systems visit our access control page
All the IP readers and IP controllers connect to the network switch. The pigtail wires from the door control and reader provide power to the electric door lock, detect door open or closed, provide the Request to Exit (REX) button input. This makes installation extremely easy. For more about the wiring topography of these access control systems, take a look at our article, IP Door Access Systems Wiring.
---
The IP access control system, consists of a door reader, a controller, an electric lock, and access control management software. A door access control system is used to prevent unauthorized entry. Credentials, like a card or keyFOB, are used to identify the right person who can enter the door. The access control system determines who can open a specific door at a scheduled time and date.
Did you know that your door access control system can tell you who is in the building? Or that you can notify security the moment a vehicle enters the parking lot? Take a look at the article Security Questions and Answers.
Door access is only one part of an integrated security system. For example, by integrating door access control with IP camera systems, we can create a holistic security system. You can also integrate IP intercoms that control visitor entry. This strategy integrates all the elements designed to safeguard an organization into a multifaceted and interconnected system. The endgame of this holistic approach is to provide a continuous level of protection across the organization's community, and the physical environment.
Your safety is built around four primary types of security equipment: door access control, IP intercoms, IP cameras, and emergency paging systems. Door Access Control is our first line of defense.
Components of the Access Control System
The door access control system includes:
*The IP reader-controllers are significantly different than the older door access systems that used central control boxes. Instead of connecting to a control box, they connect to your network and are powered by PoE.
If you want to learn more about how the access control system works, how to install it, or what is the best door reader, take a look at our resource articles.
---
Product Highlights
The Pros and Cons of Credentials used in Door Access Control
A credential, such as a card or keyfob, provides a unique embedded ID that allows entry to a building with a door access control system. The door access management software maintains the list of users and their credentials. The credential can be a card, keyfob, smartphone, or a more secure system using a biometric credential. In all cases, the ID from the credential is sent to the controller or computer. If the ID matches one of the people in the access control management system, it will unlock the door.
Read more about how to select the best credentials for your door access control system.
Door Access Control Systems have advanced over the last year. The latest access control systems add better credentials and secure door reader connections. The door reader includes encrypted data transfers, and the electric locks are protected by internal circuits that prevent vandalism. When there are increasing threats to the organization, or perhaps something has already happened. Maybe an intruder or an unauthorized person entered the computer room, or possibly some inventory was stolen from the warehouse. All these situations benefit from IP door control systems
---
Long-range access control systems extend the capability of door access control systems. They read a credential to open the lock. The standard access control systems have a card-to-reader range in inches, while the long-range readers have a range of over 25 ft. When you want to open a gate to a parking garage from your vehicle, it's easier to use the long-range reader system.
Long-range access control reader systems use large antennas and credentials with a battery. The larger antenna allows more energy to be directed at the credential. Systems that use passive credentials (no battery required) have a maximum range of a couple of feet. The active credentials with batteries have a more extended range, but the battery needs to be replaced. Learn more …
---
Additional Security Solutions
Here are some additional products that increase your safety and security:
Special access reader-controllers include palm recognition, face recognition, and scan for elevated temperature as well as checking if you are wearing a protective mask.
When a person is diagnosed with Covid-19, finding all the people they have had contact with is important in keeping your organization healthy.
---
IP Door Access Control for Small to Enterprise Systems
The Hartmann Controls advanced access control system allows you to start with a single door and grow to thousands of doors and users. Since each door includes its own network-attached controller, it is very easy to expand the system. The enterprise access control system provides advanced functionality that is designed for the complex access control environment.
The Hartmann IP door access control system includes very powerful access control management software with support for elevator control, if-then logic for advanced functionality, and integration with IP camera systems.
For more details take a look at the access control system diagram.
Door Access Control Features:
The door access controller uses Power over Ethernet (PoE)
A very flexible controller that can mount on top of the door and provide a built-in motion detection function.
Operates even if the network is down (as long as the controller has power).
Supports multi-credential door readers including those that support mobile credentials.
The same controller modules can be ganged together inside a central control box that can be used to retrofit older door access control systems.
The controller provides connections with power for the electric lock, connections to exit buttons, door sensors, automatic door openers, and the electric lock control.
There is an optional built-in motion detector that can provide the Request to Exit (REX) function.
The controller can control two readers (inside and outside the door) or two separate doors.
Integrates with many fire alarm systems
256-Bit AES Encryption: Protects data at a level often required by high-security environments such as financial, military, municipal and hi-tech organizations
Includes integration with Video Surveillance Systems, elevator control, and fire alarm systems
The slave door readers connect to an intelligent controller such as the Hartmann controller. The readers support Radio Frequency ID (RFID) credentials that the person carries or mobile credentials provided by the person's smartphone.
There are RFID credentials that use 125KHz or 13.56MHz, Mifare, or Smartcard format. The mobile credentials use Bluetooth connections to your smartphone. The Biometric Readers read a person's characteristic like your fingerprint or face.
---
The Enterprise IP Based Door Access and Entry Control Systems Integrates with IP Camera Surveillance Systems
IP Door Access Control systems can be easily integrated with your IP camera system. We can maximize your safety and security in hospitals, schools, government, military, and other organizations. Now it's easier than ever to install a door access control system using your existing Ethernet network. It can be easily integrated with an IP video surveillance security system.
The Hartmann enterprise door access system integrates directly with many IP camera video management software systems. Alternatively, almost any video management software solution can be integrated using C2P convergence software.
---
IP Access Control System for Small to Medium Systems from Isonas
This modular IP based door control system allows you to add one door at a time. The expensive control panel is no longer required! The ISONAS IP Door Access Controller and Reader includes all the functionality that used to be in the control panel. Now it's all in one unit. With intelligence built into each and every unit, it operates even if your network is down.
Each Isonas IP reader attaches directly to the network and is powered using PoE.
Features of Isonas IP Access Control System
No Control Panels Required
IP Door Readers are powered using PoE
The readers provide 12 VDC power for the electric lock
A wide selection of credentials and cards
Pure Access Cloud or Pure Access Manager Software Required
Works with IP intercoms to allow remote control of doors to allow entry of visitors
---
Isonas IP Door Readers for Access Control
ISONAS IP door readers are both an RFID Proximity reader and a controller. No control box is required since all the intelligence is in the IP reader.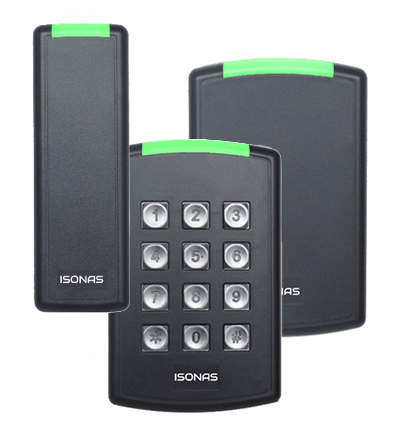 Specifications for the Isonas Readers
The IP reader connects directly to the Ethernet network and is powered by PoE. IP door readers have the advantage of being very easy to install.
Since the reader converts the PoE power to 12 VDC, you can power locks without running additional power wires. All you need is the CAT 5 drop to the reader. The latest RC04 readers are available in a number of different styles and capabilities. You can select models that mount on the side of the door frame (mullion) or on the wall. The latest models provide the option to use your smartphone (Bluetooth) as the credential.
The readers have all the intelligence built-in so even if the network is down the reader keeps working. Of course, it's best to use a UPS on the network switch or the midspan that's providing the PoE.
Learn more about the Isonas access control system.
---
How to Integrate Isonas Access Control with IP Cameras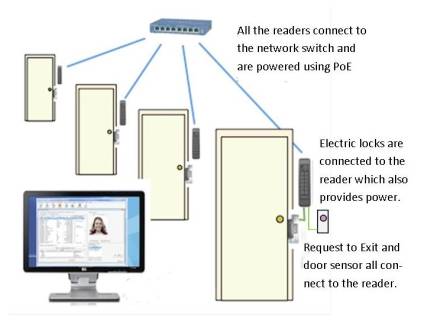 The Isonas IP-based access control system can be integrated with your IP camera surveillance system to provide a complete security system but requires additional integration software.
You can select the convergence database software that displays door entry information with the video captured when the door reader is used.
---
Biometric Door Access Control Systems Overview
Biometric Reader Overview | Select the Biometric Reader | Buyers Guide
The latest professional biometric readers provide increased reliability and functionality. Biometric door access control units attach to the network and measure a person's unique physiological characteristics. Note: They do not store a picture of the fingerprint or face. Everything is encoded for security and privacy.
These biometric IP door readers can be powered using PoE. Some of the readers use a splitter or 12 VDC.
---
Face Recognition Improves Safety
Face recognition is used to improve security, prevent crimes, and keep us healthy. The latest facial recognition systems use your IP camera system. They can be used for access control, and provide real-time information about who is entering specific areas in your facility, such as: recently terminated employees returning to work, restraining order alerts, a person of interest, people making threats to employees, contact tracing, etc.
Face recognition is used to check people's temperature and track people within an organization. By maintaining a list of people who come in contact with each other the system builds a database that can be review for contact tracing.
Facial recognition is used for door access control. Door access uses face recognition algorithms that are built into the door reader.
Biometric access control provides a very secure way to control access to your organization.
Facial recognition can be challenging. Sometimes the person may not be facing in the right direction.
3D facial recognition extends the traditional methods of facial recognition to live-stream accurate capture and identification.
---
Designed for organizations that need more than door access control. These reader-controllers are access control systems that check a person's temperature and if they are wearing a surgical face mask.
The face-recognition access control door readers combine a powerful embedded thermal camera and the latest face recognition algorithm that is supported by an optimized dual-core processor.
---
Summary of Access Control Solutions
---
Access Control Management Software
Access control management software determines who can enter, what door they can use, and when they can come in. The Access Control Management Software is associated with each type of access control system. The software controls the specific kind of door readers and controllers, so they must be selected with the matching system. Here is access control management software that supports the particular access control system.
Comparison of Access Control Management Software
The following summary compares the various door access management software available:
---
Isonas Access Control Software Solutions
The Isonas door management software is available as a cloud subscription or as an on-site license. The advantage is the cloud service which is provided as a subscription service. The software provides basic access control functions that make it a good small to medium solution. The downside is that it doesn't support some advanced functions such as control of elevators.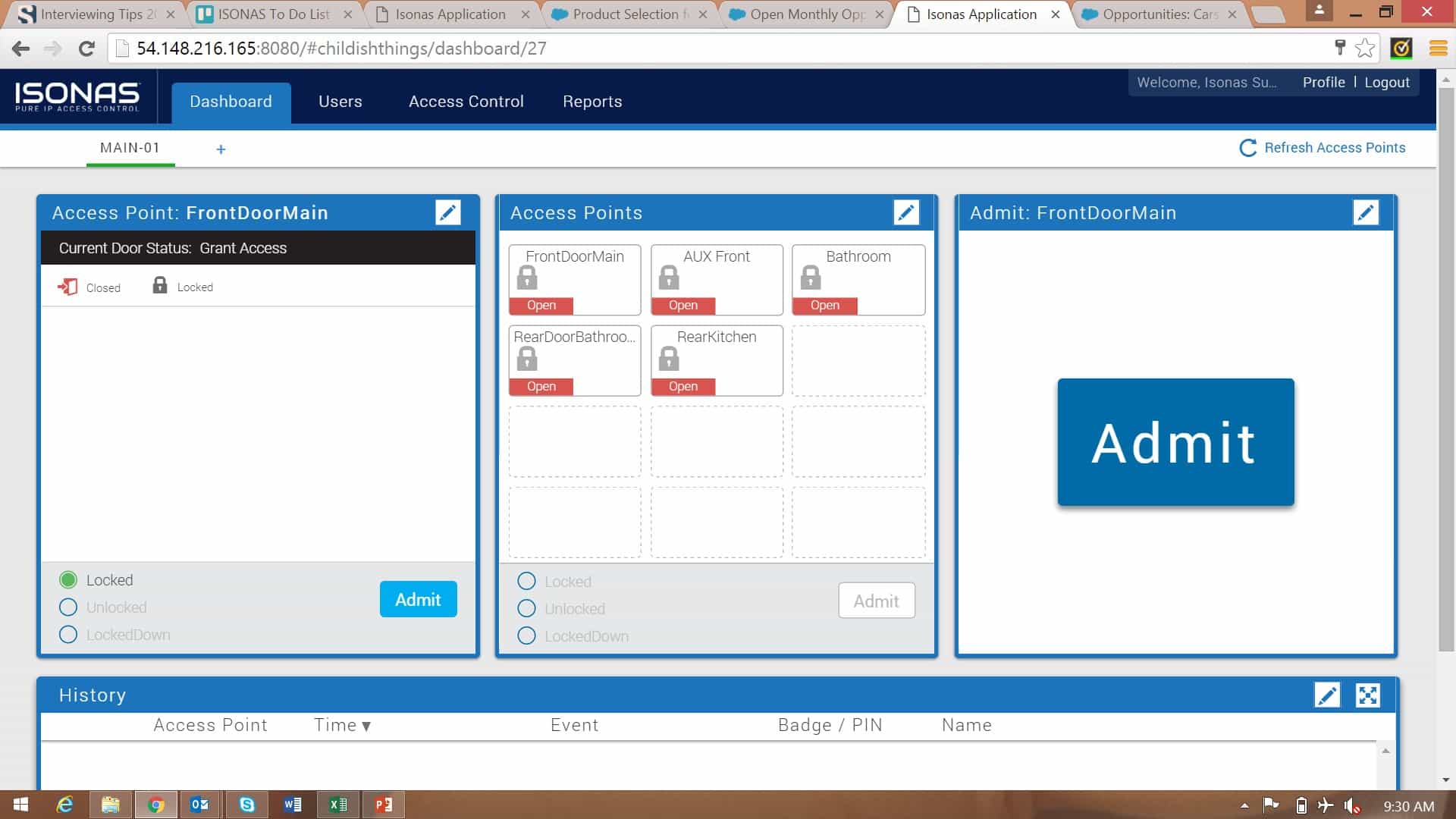 Uses a remote cloud server. Pure Access provides a complete hosted IP door access control platform available in the cloud. This allows full installation, administration, and management of your Isonas access control hardware. The cloud server makes installing and controlling your IP door access control system extremely easy. All the IP door readers and IP controllers can be installed from anywhere. Cloud software is provided under a monthly or yearly subscription plan.
Runs on your Windows computer. Pure Access Manager is on-premise software. This is the classic model of providing a perpetual license that allows you to run the software on your own Windows computer.
Both solutions provide similar capabilities. Take a look at our article, Cloud Versus On-Site License to help you determine which platform is best for you. Or, contact us for help selecting the right solution for your door access control application.
---
Legacy Software for Isonas Door Access System
DB Crystal Matrix Software™ has been discontinued and replaced by the Isonas Pure Access Manager. This software platform ran on your Windows PC and provided easy enrollment, allowing you to define who, where, and when people are allowed in. It used the SQL data structure making it very easy to integrate with video recording systems.
EasyWeb-2015 has also been discontinued and replaced by Pure Access. Contact us for details. Pure Access provides some enhancements that were not available in EasyWeb and provide similar functions to DB Crystal. The software is browser-based and enhances your access control system. It works with the latest readers. Pure Access Manager includes Active Directory integration to make it easier to register user rights. See the ISONAS end of life statement or contact us for more details.
Alternative access control software: 3rd party software is available that is similar to EasyWeb-2015. Cobalt provides many of the functions that were available before, including pass-back control and scripts.
---
The Hartmann access control management software provides advanced functions such as logic if-then functions, and allows you to control elevators, visitors, and integrates with IP camera systems. IP readers can also be used in parking lots to control a gate. These long-range access readers allow a credential to be over 25 ft. away from the reader. This access control management software is designed for the enterprise that requires advanced functions.
Features of Door Access Software
Administer your Access Control System from any Browser-Enabled Device: Tablet, Smartphone, laptop or PC
Easy Video integration into many video management software systems (VMS).
Intuitive, easy to use action plan editor allows you to create complex action plans in minutes
Flexible trigger engine allows you to trigger action plans from the door, input, output state changes, or trigger action plans upon scheduled times
Elevator Control allows you to control what floor people can go to
Active Directory support, on both the administrator levels as well as cardholder/user levels.
---
This software manages biometric door readers. It is used for entering the biometric credential credentials as well as RFID credentials that can also be used with these door readers.
The Professional software supports all the Pro-series biometric IP readers and the Pro-series Proximity Readers. This management software is licensed per reader. There is no yearly subscription cost.
---
Proximity and Smart Card Door Credentials for Door Access
Select ISONAS, HID, Mifare, iClass format or Smart Card proximity credentials, or when you don't want to use credentials select the Bluetooth Mobile Credential reader or biometric options.
You can select two different technologies, Prox-card or Smart-Card type. The Prox-card technology uses 125 kHz frequency between the credential and the reader, while Smart-cards use 13.56 MHz frequency. The smart cards provide additional levels of security. The credentials come in various form factors. Select the style you need: thin cards that fit in your wallet, clamshell-style that you can wear on a lanyard, Key Fobs for your keychain, or Cap Tags that can attach to other things.
Example of credentials available:
RFID-type cards that use 125 kHz
Smart Cards that use 13.56 MHz and use AES128 encryption
Combination cards with both 125 kHz and 13.56 MHz capability
Various credentials with different mechanical configurations

Clamshell, thin card, or keyfobs

Mobile Credentials that use a Bluetooth connection to your smartphone
Biometric credentials

Face, Fingerprint, palm, finger-vein
To learn more about credentials, please read our article Comparison of Door Access Credentials
Note that pricing changes frequently so please contact us for the latest pricing. We can be reached at 800-431-1658 in the USA, or at 914-944-3425 everywhere else, or use our contact form.
---
Remote Door Access Control Using an Intercom and IP Camera
Intercoms for Apartments | Intercoms for Organizations
If you have a door that's used by authorized people but can also have visitors, you can use our intercoms and IP camera systems to control the door. You can manually control entry from your computer.
For example, the intercom system notifies you with an audible alert, the video pops into a video window on your desktop so you can talk to the person at the door and then let them in.
There are a number of different intercom solutions depending on your exact requirements. Read more about intercoms
Intercoms for Apartments use wireless connections and smartphone apps to make it easy to control access in large organizations and apartment houses. Learn more …
Security can be improved when an IP camera system is added to door access control.
These combined systems maximize the safety and security in hospitals, schools, government, military, and other organizations.
Now it's easier than ever to install IP camera and door access control systems using your existing Ethernet network. It can be easily integrated with an IP video surveillance security system. T
---
Special Door Access System Solutions
Bluetooth Mobile Readers | Intercoms | Elevators | Long Range Readers | More
Door readers are available with special capability. The classic door readers use proximity credentials that use an RFID signal between the card credential and the door reader. Mobile credentials use Bluetooth connections to your smartphone. There are other special readers that provide longer range and can be used to open a gate from a vehicle. And, biometric door readers read your fingerprint or facial features to open the door.
There are other special door access systems that be used to control elevators. The access control systems can also be integrated with fire alarm systems, and for added security, you can add intercoms and IP cameras as well as walk through metal detectors.
Here's a summary of some of these special access control systems.
These Bluetooth Readers Use Your Smartphone as the Credential
Mobile credentials are supported by the Isonas and some of the Hartmann door readers. All the Isonas IP readers include Bluetooth that allows you to use your Smartphone instead of credentials.
The Hartmann Bluetooth enabled door readers to support mobile credentials and have more flexibility than Isonas readers. They can You can unlock a door, open a gate, or even turn on lights with the wave of your hand.
Mobile credentials: Using your smartphone and an app, you can unlock your door.
---
Special long-range door access readers are used to open a gate from your car. They have a range of over 25 ft.
---
The elevator access control unit is used to determine the floors that can be reached based on the person's credential. An elevator access control system consists of a credential reader in the cab and a controller box that is usually located in the elevator control room. Learn more…
---
Integration of Access Control and Fire Alarms
The door access control reader and the electric lock can be wired to the fire alarm in a number of different ways. We can use a relay to drop power to the electric lock, or use an IP device that drops power using the network connection, or add a power control box that drops power when the fire alarm system detects a fire. We can also use door access control software. Our article, "Access Control and Fire Alarm System Integration", describes how this is accomplished.
---
Adding metal detectors at the doors increase safety and security at your school, business or special events. These detectors assure that weapons don't come into the building.
---
Visitor authentication and management systems enhance the safety and security of your organization. Today's heightened interest in security and health has resulted in the need for visitor authentication. With the addition of access control panels and kiosks, you can provide temperature monitoring and protective mask detection.
These visitor management systems not only provide tracking of visitors they also provide visitor authentication and health monitoring. They can include access control panels that provide facial recognition, temperature monitoring, and mask detection to keep your organization safe.
---
Magnetic locks and Electric Strikes
Electric locks are part of your door access control system. There are a variety of automated door locking systems available from Rutherford Controls. You can select either a magnetic lock or electric strike to secure a door.
Magnetic locks are used in high-security areas where you need to monitor the movement of people. Since people are required to use their access cards in both directions, you can track who enters and leaves a secure area.
Electric strikes are easy to install and are used to secure outer and inner doors, but do not prevent egress from an area like the magnetic lock. It replaces the fixed strike place in a standard lock.
Special Cabinet Locks are available as well. For example, we have small locks that can be used to secure cabinets. These can be used to lock everything from filing cabinets to drug cabinets.
---
Resources for Door Access
More Technical Articles | Newsletter | Whitepapers | Blog | Videos
The following resources can be used to help you understand the technology. Contact us for help with your system. Our engineers will make sure you get the exact system you need.
Access Control Technical and Application Articles
How to install Door Access Control: This article provides A Guide to Door Access Control Installation. Installing door access control requires mechanical lock installation, wiring, door reader mounting, and management software. You will find access control systems easy to install if you have installed other network-attached devices such as computers, IP cameras, or paging systems.
How to increase Access Control Security: Biometric readers are used instead of card readers to open a door. They identify a human characteristic, such as your face or fingerprint, and are much more secure than standard card credentials. Card credentials can be stolen, lost, or given to another person. This article compares some of the popular biometric readers. Read more…
Intercoms provide control of visitors: This article from Kintronics explains how access control and intercoms can be used together to create a secure and reliable access control system. It explains how an intercom system can be used to verify the identity of an individual before allowing them access to a certain area. It also discusses the many benefits of using access control and intercoms together, such as providing a layer of security, as well as convenience and cost-effectiveness. The article also provides tips on how to get the most out of an access control and intercom system. Read more…
How Door Access Control Systems Work: Door access control is part of an overall security system that keeps our organizations safer. The access control system ensures that only registered people can enter the organization.
Comparison of Door Access Control Readers: We have come a long way since the early magnetic stripe cards. The new door readers can read RFID card credentials, mobile phone credentials, and biometric credentials. Some of the door readers are combinations of a reader and a controller. This means that all the intelligence is built into the reader at the door. This reader-controller connects to the network. Read more…
How the Integration of IP Cameras, Intercoms, and Access Control Increases Safety: What is the best way to use access control, IP camera systems, and intercoms to create lines of defense against intrusions. Surveillance cameras provided by IP camera systems have helped catch the criminals, but what can we do to prevent the intrusions. This article describes the proactive measures we can take to make life safer. Read more…
How to install Mag locks: The magnetic door lock is a unique lock requiring special handling to ensure safety. Since the mag lock holds the door shut and prevents both egress and ingress, additional devices must be present to allow people to exit.
The article reviews the wiring topography of various door access systems. We compared the different access control systems and the benefits and disadvantages of each system configuration.
How does door access control work, what is the most secure access control system, and why do I need door access control management software are some of the questions and answers provided.
The combination of access control, temperature scanning, contact tracing, and access to control databases has increased security and health. This article reviews the new technology advances in visitor management and the integration of door access control and other technologies.
How the addition of temperature scanning increase health safety: This article reviews the various technologies used to measure a person's body temperature, and how they can help monitor people as they enter a secure area.
The RFID door readers use credentials that have embedded circuits and an antenna. The reader broadcasts a signal that is received by the credential antenna. The broadcasted electrical signal contains enough power to energize the circuit in the credential. This article describes how the technology works.
Comparison of Door Access Control Systems: We compared three access control systems, the Isonas reader/controller system, the Hartmann control system with a separate IP controller located at the door, and the Biometric IP readers.
Network-attached security devices can provide walls of defense that increase safety in apartment buildings. Door access control is one of the first lines of defense.
Biometrics provides one of the most secure ways of granting access. It authenticates the person rather than the card that they carry. Biometric identification includes fingerprint, handprint, and facial recognition. The latest technology includes both facial recognition plus body motion and shape. It is one of the more reliable biometric solutions available.
This document reviews a number of different biometric systems. It compares fingerprint authentication and facial recognition.
Remember when access control was limited to fitting a key into a lock and turning? Door control systems have come a long way, and now are easier to install and much more reliable.
Wouldn't it be nice to be able to push a button to initiate campus-wide lockdown? What about integrating IP door access with your IP surveillance system, or controlling what floor a person can go to in the elevator? Or, maybe you would like to use the access system as a visitor management system? Well, the latest network-attached access control systems provide these advanced features as well as many others that can make it easier to control security.
When the fire alarm goes off, it's important to make sure that the doors are all unlocked. This article describes how access control and fire alarm systems can be integrated. It also describes how to assure people can escape when the building doesn't have a fire alarm system.
Long-range access control systems are primarily used to open a gate as you go into a parking area. This article describes how the long-range readers work.
Door access readers can be used to determine what floors a person can reach depending on their credential authorization. This article describes how we use access control readers along with a special relay control box and software to increase security in a high-rise building.
Which door reader is best for your application. Take a look at this buyer's guide. It provides the pros and cons of each type of reader. It includes a comparison of RFID readers, fingerprint, finger vein, facial recognition, and multimodal readers that read more than one physiological characteristic.
What can we do to increase our security? By integrating different security systems we increase our safety. IP door access prevents unauthorized access to our buildings, walk-through metal detectors prevent people from bringing in weapons, and using campus-wide paging systems we keep everyone informed of any emergency. This article describes when and how to use these technologies.
Recently Door Access Control software has become available in the cloud. What exactly does this mean and what is better for you? The article compares on-premise software to a cloud platform and provides pros and cons that can help you decide what is best.
A review of access control technology and how the IP door access systems can be integrated with IP camera systems.
Biometric door access control is a more secure method of controlling access. Facial recognition uses a number of algorithms to identify a face.
Fingerprint readers detect the features of a person's fingerprint and create a digital code that is used as a unique digital template.
This article compares the older door access technology that uses control panels and the latest IP door access intelligent readers. The article compares the total cost of implementation.
How Intercoms and IP paging systems can improve your safety. Everything you wanted to know about how to add an intercom that can control a door from a remote location.
Door access control systems have become much more sophisticated, and easier to integrate with other security systems. These new IP door readers integrate with IP video systems, and IP intercoms, providing a much more secure environment.
There are many misconceptions about science and technology. One of the misconceptions is that biometric IP door readers store a picture of your fingerprint or face. Instead of storing a picture of our actual fingerprint or face, the biometric readers captures only a small subset of data and then convert these minutiae points to encrypted binary data.
If you would like to receive our technical newsletter, just fill out the form.
Our Technical Notes newsletter is filled with articles about how the technology works and examples of how it is used. It also includes some great technical jokes and cartoons.
Technical Whitepaper
How to Create the Complete Safety and Security System. This whitepaper describes how to make your world safer by integrating IP camera systems, access control, and emergency paging systems.
Our blog describes how the security technology works, includes educational notes, describes how to do your own calculations, and how to select the right equipment. We also included examples of how security technology is used.
These videos provide an overview of the technology. Take a look at the videos describing door access control and IP camera systems.
---
Technical Support
Security systems can be complex because they include many different components that have to work together. Kintronics is a resource for engineering and integration of all your security projects. We can design your complete system so don't hesitate to contact us for assistance.
After purchasing your system we make sure that it works exactly the way you expect. You can contact us for help with your installation and any technical support you may need.
We provide technical support and warranty support. Contact us at 1-800-431-1658 or 914-944-3425 whenever you need assistance.
---