Network Attached IP Door Access Control Systems from Kintronics
IP Based Door Access and Entry Control Systems Integrate with IP Camera Surveillance Systems to Provide a Complete Security System

Each Isonas IP reader attaches directly to the network and is powered using PoE. This modular IP based door control system allows you to add one door at a time. The expensive control panel is no longer required! The ISONAS IP Door Access Controller and Reader includes all the functionality that used to be distributed between the reader and control panel. Now it's all in one unit. With intelligence built into each and every unit, it operates even if your network is down.
This IP based door access system integrates with your IP camera surveillance system to provide a complete security system.  Select the convergence database software that displays door entry information with the video captured when the door reader is used. Intercoms can be integrated with video management software to provide manual entry for visitors and deliveries.
Features
No Control Panels Required
IP Door Readers are powered using PoE
The readers provide 12 VDC power for the electric lock
Wide selection of credentials and cards
Pure Access Cloud or Pure Access Maneger Reqauired
Works with IP intercoms to allow remote control of doors to allow entry of visitors
IP Door Readers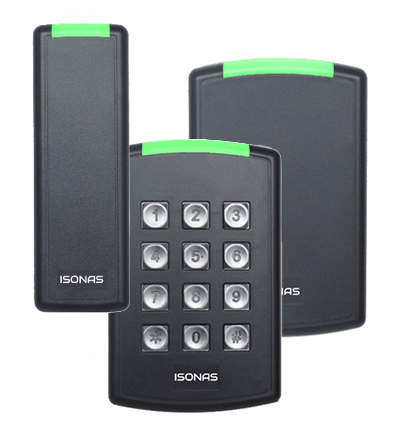 ISONAS IP door readers are both a reader and a controller. No control box is required since all the intelligence is in the IP reader.
The IP Reader connects directly to the Ethernet network and is powered by PoE. IP door readers have the advantage of being very easy to install.
Since the reader converts the PoE power to 12 VDC, you can power locks without running additional power wires. All you need is the CAT 5 drop to the reader.  The latest RC04 readers are available in a number of different styles and capability. You can select models that mount on the side of the door frame (mullion) or on the wall.  The latest models provide the option to use your smartphone (Bluetooth) as the credential.
The readers have all the intelligence built in so even if the network is down the reader keeps working. Of course it's best to use a UPS on the network switch or the midspan that's providing the PoE. Learn more
Access Control Software
You can select Pure Access Cloud software, that uses a remote cloud server, or Pure Access Manager software that runs on your Windows computer. Pure Access Manager is on-premise software.  This is the classic model of providing a perpetual license that allows you to run the software on your own Windows computer.
Cloud software runs on a remote server and is provided under a monthly or yearly subscription plan.  Both solutions provide similar capability.  Take a look at our article, Cloud Versus On-Site License to help you determine which platform is best for you. Or, contact us for help selecting the right solution for your door access control application.

Pure Access Manger is on premises software that controls all your ISONAS door readers.  The software manages and controls all the door access readers and is controlled by your authorized security personnel.
Once you have customized your desired access control, the software sends all the information to all the IP readers. The reader stores and processes all the commands. This means that even if the network goes down, the readers have all the information necessary to continue to operate.
Pure Access Manager supports an unlimited number of doors and card holders. This is a full featured Access Control software system. It provides fine-detailed level control of all access security related issues. Reports are available for all system activity, as well as real time reporting on who is currently in the facility. The software manages and controls all the door access readers and is controlled by your authorized security personnel.
Learn more …
IP door access control platform is available in the cloud. Pure Access Cloud is a hosted service that provides full installation, administration and management of your ISONAS access control hardware.
With this remote server control you can manage an unlimited number of door access points across any geography through a mobile device, tablet or modern browser.
This web-based interface is easy to use and makes it easy to distribute the enrollment and management function to many different people and locations.
Pure Access is the official replacement to EasyWeb and DBCrystal.  There may be some new on premise software available in the future.   Learn more …
Legacy Software
DB Crystal Matrix Software™ has been discontinued and replaced by Pure Access Manager. This software platform ran on your Windows PC and provided easy enrollment, allowing you to define who, where and when people are allowed in. It used the SQL data structure making it very easy to integrate with video recording systems.
EasyWeb-2015 has also been discontinued and replaced by Pure Access.  Contact us for details. Pure Access provides some enhancements that were not available in EasyWeb and provides similar functions to DB Crystal. The software is browser based, and enhances your access control system.  It works with the latest readers.  Pure Access Manager includes Active Directory integration to make it easier to register user rights. See the ISONAS end of life statement or contact us for more details.
Proximity and Smart Card Door Credentials

Select the style you need: thin cards that fit in your wallet, clamshell style that you can wear on a lanyard, Key Fobs for your key chain or Cap Tags that can attach to other things.
Select ISONAS, HID, MiFare, iClass format or Smart Card proximity credentials, or when you don't want to use credentials select the ECKey Bluetooth reader option below.
Example of credentials available:
ISOProx II
Proxcard II
DuoProx II
iCLASS Prox
Smart DuoProx II
Proxkey II
Proximity and MiFare
DuoProx
MicroProx
PhotoProx
Smart Cards
These Bluetooth Readers Use Your Smartphone as the Credential

All the Isonas IP readers include Bluetooth that allow you to use your Smartphone instead of credentials.  You can unlock a door, open a gate or even turn on lights using the IP reader.
Using your smartphone and an app, you can unlock your door.
More.
Remote Door Access Control Using an Intercom and IP Camera

If you have a door that's used by authorized people but can also have visitors, you can use our intercoms and IP camera systems to control the door. You can manually control entry from your computer.
For example, the intercom system notifies you with an audible alert, video pops into a video window on your desktop so you can talk to the person at the door and then let them in.
There are a number of different intercom solutions depending on your exact requirements. More
Resources
The following resources can be used to help you understand the technology. Contact us for help with your system. Our engineers will make sure you get the exact system you need.
Technical and Application Articles
Comparison of Multimode Door Readers
Which door reader is best for your application.  Take a look at this buyers guide.  It provides the pros and cons of each type of reader.  It includes a comparison of RFID readers, fingerprint, finger vein, facial recognition, and multimodal readers that read more than one physiological characteristic.
Cloud Versus On-Site Door Access Software
Recently Door Access Control software has become available in the cloud.  What exactly does this mean and what is better for you?  The article compares on premise software to cloud platform, and provides pros and cons that can help you decide what is best.
How to Install an IP Door Control System
A review of access control technology and how the IP door access systems can be integrated with IP camera systems.
Door Access Control Review
A comparison between the older technology that uses control panels and the latest IP door access readers. The article compares the total cost of implementation.
How Network Attached IP Paging and Intercoms can Increase Safety
How Intercoms and IP paging systems can improve your safety.  Everything you wanted to know about how to add an intercom that can control a door from a remote location.
If you would like to receive our technical newsletter, just fill out the form.
Our Technical Notes newsletter is filled with articles about how the technology works and examples of how it is used. It also includes some great technical jokes and cartoons.
Technical Whitepaper:
How to Create the Complete Safety and Security System. This whitepaper describes how to make your world safer by integrating IP camera systems, access control and emergency paging systems.
Our blog describes how the technology works, includes educational notes, describes how to do your own calculations, and how to select the right equipment. We also included examples about how the technology is used.
These videos provide an overview of the technology. Take a look at the videos describing door access control and IP camera systems.
Technical Support
Security systems can be complex because they include many different components that have to work together. Kintronics is a resource for engineering and integration of all your security projects. We can design your complete system so don't hesitate to contact us for assistance.
After purchasing your system we make sure that it works exactly the way you expect. You can contact us for help with your installation and any technical support you may need.
We provide technical support and warranty support. Contact us at 1-800-431-1658 or 914-944-3425 whenever you need assistance.
Go to the
Kintronics
Home Page for more products.
Contact
us at or Call 1-800-431-1658 or 914-944-3425 to request technical information and our catalog of video products.
Kintronics, Inc. 500 Executive Blvd. Ossining, NY 10562 Tel: 800-431-1658 or 914-944-3425 (outside the USA)