Hanwha (Samsung) IP Cameras
Hanwha Vision (used to be Samsung) has one of the largest selection of IP cameras. From sophisticated IP Cameras with AI to economical dome IP cameras, you can find everything you need.
IP Cameras and Systems available
Very low-light sensitivity IP cameras
Mobile IP cameras
Stainless steel cameras
The Hanwha Techwin IP cameras conform to the National Defense Authorization Act (NDAA), effective August 13, 2019, specifically section 889. This means they are the best choice for government projects that require products that comply with all government and international trade regulations.
Performance Comparison of IP Cameras
This family of cameras provides an economical solution for small to medium surveillance areas. They are best used in small areas that don't require long-range low-light capability or sophisticated intelligence. There are 2 and 4-Megapixel models with fixed and variable lenses. The 4-Megapixel models include remote zoom capability.
This is the most affordable family of cameras. You can select fixed or variable lens models, with up to 2 Megapixel resolution. This economical family includes:
Dome Cameras | Bullet Cameras | PTZ IP cameras
This is the right choice if you need an economical IP camera system. If you don't require remote zoom, remote focus, or Wide Dynamic Range (WDR), it can save money.
These cameras provide an increased capability, such as camera tampering detection, hallway view, 120 dB WDR, and defocus detection. The cameras also support the latest H.265 compression. This advanced compression saves bandwidth and storage.
Q-Series Dome IP Cameras | Bullet IP Cameras | PTZ Cameras
The family includes an affordable set of cameras that include 2-Megapixel and 4-Megapixel cameras. The economical 4-Megapixel models include remote zoom and focus lens. This set of cameras provides the best cost-performance available. Learn more …
The X-Series cameras include the latest Wisenet 7 chip. This high-performance video processing chipset provides very high-quality video as well as artificial intelligence that includes shock detection, Loitering, Directional detection, Face/Upper Body detection, Fog detection, Audio detection, Digital auto tracking, Sound classification, and Tampering. There are stainless steel models in this family that can be used in salt spray environments. The family includes:
X-Series IP Dome | X-Series Plus Dome | Bullet IP Cameras | Box IP Cameras | PTZ cameras
These cameras provide the very best low light sensitivity, highest performance wide dynamic range (150 dB WDR), as well as some very helpful advanced analytics. The camera family supports the latest H.265 compression and adds WiseStream II Compression technology to provide some of the lowest bandwidth and storage requirements available. The new PTZ camera that can see over 1100 ft. in total darkness. Learn more …
The X-Series plus cameras include advanced functions and features as well as being the easiest cameras to install. This high-performance video processing chipset provides very high-quality video. Learn more…
This family of cameras provides 4K resolution and cameras that include AI (artificial Intelligence) capability. They use up to 12-Megapixel sensors to provide the highest performance at a reasonable price. You can select a dome or bullet camera with remote zoom and focus, or PTZ cameras.
The latest 4K IP cameras were tested against other 4K IP cameras. This 4K camera review compared the Axis, Hikvision, and Sony. The PNO-8090R was one of the best cameras in the shootout. Learn more …
WiseNet III Full Featured Camera Specifications
Hanwha has been making quite an impression in the security and surveillance market. These IP cameras exceed the performance of other cameras in the market yet have great pricing. The Hanwha megapixel cameras feature wide dynamic range, low noise, and very low light performance. Look out Axis, Hanwha is on the move. Select from a wide variety of box, bullet, dome, fish-eye, and PTZ cameras.
WiseNet III Dome Cameras | Bullet Cameras | Panoramic Cameras | PTZ IP cameras
Samsung uses a very high-quality sensor that captures the best image. They include a powerful digital signal processing computer (WiseNetIII) chip that provides the high performance necessary for wide dynamic range (WDR), 60 fps, defogging functions, p-iris, and advanced motion detection.
If you know the type of camera you need just select the link on the left. If you need help use the overview below or just contact us for help.
Compare to other IP Camera Brands
---
Hanwha IP Camera Overview
Comparison of Box, Bullet, Dome and PTZ Cameras
Fixed Box IP Cameras: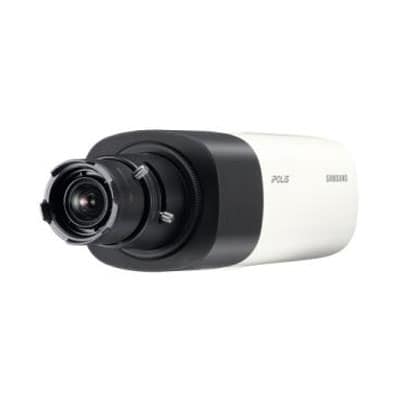 Box cameras are excellent for applications where you need flexible solutions.
There are two families of box cameras available, the WiseNet III and the X-Series
These IP box cameras can be used indoors or outdoors with enclosures and can use many different CS-mount lenses, including the latest P-iris type lenses. The lens is not included with the camera so always ask us for help selecting the right one. The new models include wide dynamic range, very good low light performance, and remote back-focus capability making them very easy to install.
---
Bullet IP Cameras:
There are five families with bullet cameras available
Bullet IP cameras and dome IP cameras have similar functionality and it is sometimes difficult to know which is best for a specific application. Here are some guidelines.H ow they are similar: Both have remote zoom lenses available and built-in IR illumination. Some models also include remote back focus to make it easier to set up. The bullet and dome IP cameras are available with 1.3, 2.0 and 3.0-megapixel resolution (the 5-megapixel cameras are coming very soon).
How they are different: The most obvious difference is the way they look. The bullet is more obvious while the dome cameras tend to be more covert. The dome hides the direction the camera is viewing. The bullet camera is designed for outdoor applications while the dome camera can be used indoors or outdoors. Probably the most important difference is that the bullet is easier to install than the dome camera. The mounting and aiming adjustments are easier. On the other hand, if you worry about vandalism, the dome is more durable than the bullet camera.
---
IP Dome Cameras:
Dome cameras are less obtrusive than the box or bullet type IP cameras. The latest IP domes include remote zoom and focus lenses that make them easy to set up.
There are five families that include dome IP cameras:
These IP dome cameras are available with up to 12-megapixel resolution. You can select indoor or outdoor-ready dome cameras with IR illuminator so they can operate in total darkness. There are also vandal resistant models.
The latest 2-megapixel domes provide 150 dB of WDR which exceeds the capability of the Sony and Axis IP dome cameras. There are even 360-degree (fish-eye) dome cameras with up to 12-megapixel resolution, that provide panoramic awareness.
---
PTZ IP Cameras:
There are four families that include PTZ cameras.
Select from a wide range of indoor or outdoor-ready cameras. You can select PTZ cameras with up to 8-Megapixel (4K) resolution. The outdoor X-Series PTZ camera provides 2-megapixel resolution with 37X of optical zoom and includes an amazing IR illuminator that provides night vision up to 350 m away.
---
Why Select Hanwha (Samsung) IP Cameras?
Samsung is now called Hanwha, so you may see this brand called by either name. In the USA they are referred to as Hanwha Techwin America. No matter the name, they have excellent products. They have a full line of IP megapixel cameras that attach to your network.
Hanwha is known for its engineering. Hanwha looked at all the other surveillance cameras in the market and took the best technology from each. As a result, their engineering developed a very fast image processor. Faster than the Axis processor. This meant they could provide wider dynamic range at lower light level sensitivity than other IP cameras. The better video quality and the best performance in all light conditions make this brand an excellent choice for all applications. These are top-quality IP cameras, with excellent reliability. They come with a 3-year manufacturer's warranty.
Excellent performance in all lighting conditions: Hanwha's Super Light Enhancer optimizes color and makes the video more visible, especially in severe backlight or shadow environments. The latest cameras include the ability to use a p-iris lens. This maximizes the depth of field in darker situations.
Wide Dynamic Range: The latest X-Series IP cameras include up to 150 dB of dynamic range. You can really see the difference in challenging lighting conditions. The higher performance sensors allow Samsung to maximize very low light situations as well as providing wide dynamic range without having to choose between these conditions.
Easy to install: Remote zoom and focus make it very easy to set up the IP cameras.
Built-in analytics include "object removed" and "object left" as well as the unique "face finder" feature. The face finder function allows you to create an alarm if a face is detected in a certain area. They also include "line crossing" detection, camera tampering, and detection of abnormal audio sounds (in cameras with audio support).
Cybersecurity from the Ground up
Hanwha's rigorous cybersecurity throughout the product's lifecycle guarantees all video and customer data is accessible only by authorized users.
The Hanwha Trusted Platform Module means that in the event of an intrusion attempt, the camera's chip layer is hack-proof.
The commitment to making, assembling and designing their our own components forms the Hanwha Techwin "Supply Chain of Trust."
The network IP cameras are UL CAP (Cybersecurity Assurance Program) certified, meeting all UL evaluation cybersecurity criteria.
---
Remember that the cameras are just one part of the surveillance and security system. You also need video management software to record your video, the right lens, computer, and enclosures. Contact us and we will make sure you have everything you need.
---
Technical Support
Security systems can be complex because they include many different components that have to work together. Kintronics is a resource for engineering and integration of all your security projects. We can design your complete system so don't hesitate to contact us for assistance.
After purchasing your system we make sure that it works exactly the way you expect. You can contact us for help with your installation and any technical support you may need.
We provide technical support and warranty support. Contact us at 1-800-431-1658 or 914-944-3425 whenever you need assistance.