Review and Comparison of IP Camera Systems
An IP camera system is a closed circuit TV (CCTV) that is network attached. The surveillance system consists of IP cameras, with the right lenses, the camera enclosures, the network, and the video recording system. IP camera systems are used to enhance the safety and security of your organization.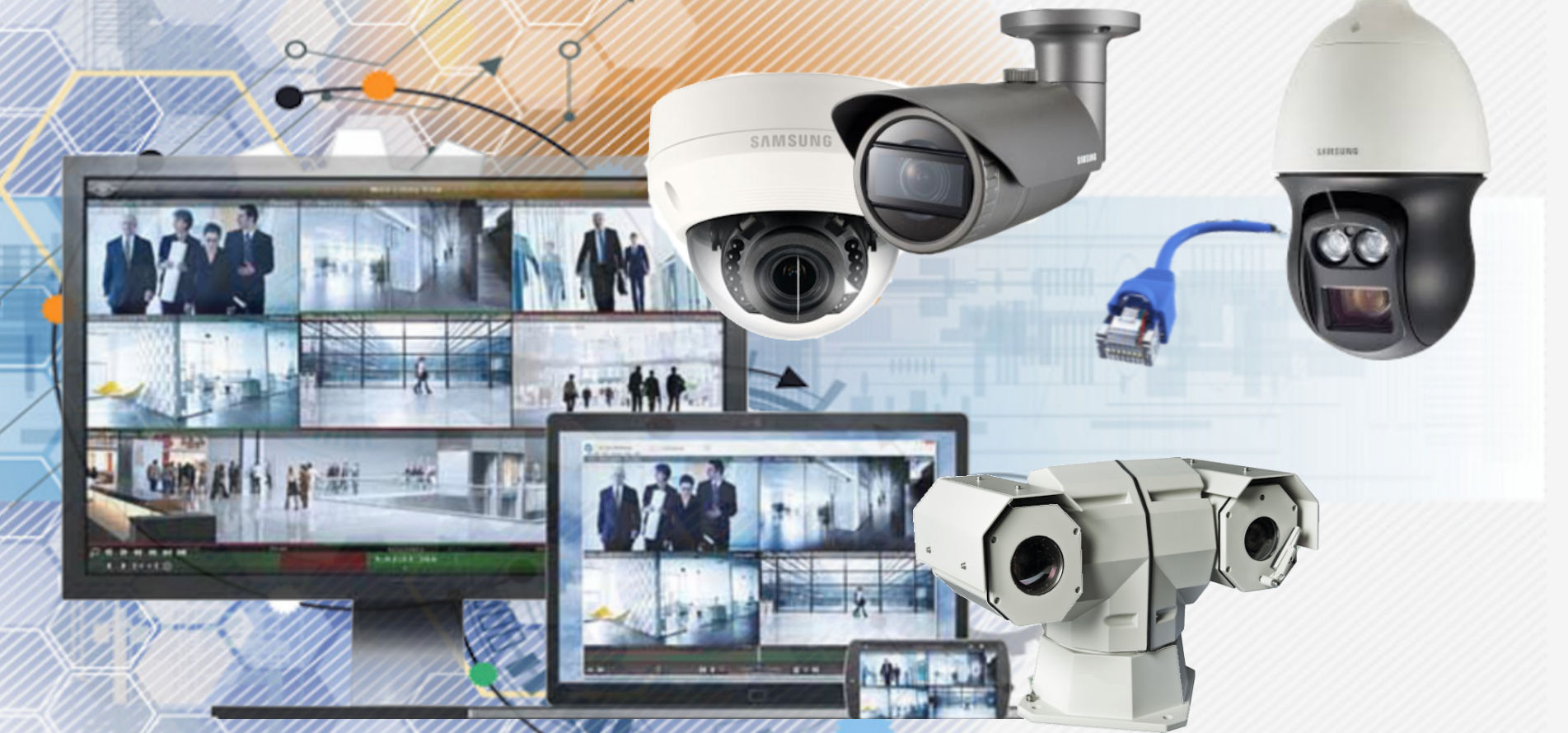 Select the IP Camera | Select the Video Recording Software | Learn More About IP Camera Systems
---
We Provide IP Surveillance Systems with Free Consulting
What is the Best IP Camera?
The best IP camera system is the one that meets your requirements. What is good for one organization, may not be right for another. We all have unique requirements. That's why it's always good to use our free consulting, so you get the best IP camera system for your application.
An IP camera system is not just the cameras. It include everything from the camera lens to the network switch and computer systems for recording the video. There are several types of IP cameras such as fixed dome, bullet, PTZ (Pan, Tilt, Zoom), panoramic, and thermal.
Each component of an IP Camera System depends on your application. For example, if the camera is used outdoors, you probably need a camera with good low-light sensitivity, and if it is used to view a parking lot a high-resolution 4K IP camera could be required.
Determine your objectives before you select your IP camera system. Set your expectations for each area. This process ensures that you get the right IP camera system. Learn more about setting your objectives…
IP Camera Systems are only one part of an integrated security system. For example, by integrating door access control with IP camera systems and intercoms, we can create a holistic security system. This strategy integrates all the elements designed to safeguard an organization into a multifaceted and interconnected system. The objective of the holistic security method is to provide a continuous level of protection across the organization's community and its physical environment.
Did you know that your IP camera can notify security if someone screams? Or that you can notify security the moment a vehicle enters the parking lot? Take a look at the article Security Questions and Answers.
When you contact Kintronics, we will provide IP camera system suggestions, pricing, and the trade-offs for each solution. Whether you need to purchase one IP camera or an IP camera system integrated with a door access control system or intercoms, we provide free consulting, excellent pricing, and support.
Select the IP Camera | Video Recording System | Integration with Other Security Systems
---
IP Camera Surveillance Systems for Business, Schools, Hospitals, and Other Organizations
There are several types of IP cameras such as fixed lens IP cameras, variable-lens cameras, PTZ cameras, indoor and outdoor, wireless, those designed for night applications, and others that can be used for long-range surveillance applications. There are even specialized cameras that can be used inside a furnace or in hazardous environments.
IP Camera Comparison | Wireless Cameras | PTZ Cameras | Long-Range Cameras | Explosion-Proof Cameras
There are many types of cameras. This sections describes the difference between Bullet, Dome, PTZ, Panoramic, Fisheye, and Thermal IP Cameras.
What's the best camera? The chart compares IP cameras from a number of manufacturers such as Axis, Hanwha (Samsung), Hikvision, Panasonic, Sony and others.
We provide a review of the IP Camera performance and compare pricing to assure you get the best camera for your application. We suggest the best IP camera systems for business, healthcare, schools, military, and government applications.
These IP cameras can be used in a variety of applications. The pan, tilt, zoom (PTZ) cameras are excellent for long-range viewing applications. We provided a comparison of the IP PTZ cameras available from Samsung, and Sony, as well as special long-range cameras with IR illumination. Learn more….
These IP cameras provide long lenses, IR illumination and thermal cameras for nighttime viewing. Learn more…
These camera systems are designed for use in areas with risk of explosion, such as refineries, gas pipelines, oil tankers, offshore platforms, industrial processes, chemical industries, etc. Learn more…
These specialized camera enclosures are designed to protect IP cameras from harsh environments. For example, one type of camera housing is designed to operate in extremely high-temperatures such as blast furnaces, or rocket test viewing. These liquid-cooled enclosures are designed for very high-temperature environments. The second type of enclosure is designed for saltwater applications like marine or coast patrol, industrial or chemical applications, and where external agents are highly corrosive. Learn more…
This comparison of wireless cameras compares the options available for wireless connection of the IP CCTV cameras. The chart reviews the two ways to provide a wireless connection. We also provide solar power solutions for wireless cameras that are in remote locations Learn more…
Product Highlight of the Month
PTZ Cameras that See in the Dark
The latest PTZ camera provides 4K resolution and a 30X zoom lens. The XNP-9300RW PTZ camera also includes a powerful IR illuminator that provides viewing in total darkness at a range of 200m (656 ft).
This PTZ camera is a very-high 8-Megapixel PTZ camera with IR and a built-in wiper. It has a 30X lens that provides enough resolution to identify the size and shape of a person that's about 1 mile away.
The camera provides enough resolution to identify a person's face in a field of view of over 32 feet.
Do you need a very long-range PTZ camera? These PTZ cameras can see things many miles away. The customized PTZ cameras combine optical and thermal cameras into one system that allows you to see targets in total darkness.
The 4K XNP-9300W PTZ | More PTZ Cameras | Long-range PTZ Cameras
---
IP camera systems include a video recording system. Do you need Video Management Software, an NVR or Cloud Services? The comparison table and Buyers Guide for IP video recording systems reviews which recording system is best for you.
The video software (VMS) runs on your computer and controls video display, video recording, retrieval, motion detection, alarms, etc. There are many IP camera recording software products available. The information we provide helps you purchase the right product for your IP camera system.
The Network Video Recorder System is a complete system that includes the computer, storage, and VMS software. This complete system allows you to view and manage video on the network. It is an alternative to using the VMS software on your own computer.
We sell a choice of open NVR systems or proprietary recording systems from Hikvision, Hanwha (Samsung), and other manufacturers.
---
Camera accessories are part of the complete IP camera system. You can buy mounting brackets, IR illuminators, microphones, speakers, or even a network extension system.
We have a family of housings that support network IP cameras. For example, the special stainless steel enclosures provide protection in the harshest environments. The enclosures protect cameras from the very high temperature of blast furnaces or rocket launches. The special explosion-proof enclosures allow you to use IP cameras in areas with risk of explosion, such as refineries, gas pipelines, oil tankers, offshore platforms, industrial processes, chemical industries, etc.
Environmental enclosures that are made for all types of cameras protect your cameras from the weather. There are also special enclosures for explosion-proof environments.
Choose a variable, fixed, megapixel, or standard lens that is compatible with high resolution and Day/night cameras.
---
Do you have older analog CCTV cameras that you would like to upgrade? You can use a video encoder to attach the old camera to the network.
You can select a single-channel or multi-channel encoder from Axis, or Hanwha (Samsung).
---
License Plate Recognition | Door Access Control | IP Intercoms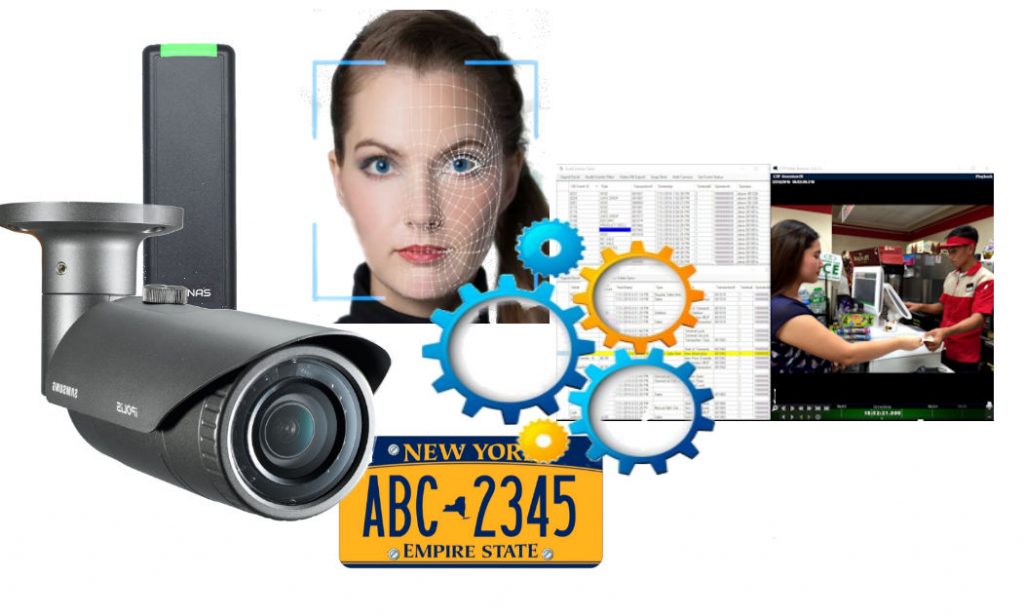 Video Management Software (VMS) can integrate with other security systems such as Automated License Plate Recognition (ALPR) and biometric access control such as Facial Recognition systems.
Door access control systems, IP camera systems, and intercoms can be used to create lines of defense that enhance safety and security. Please take a look at our video about Creating Lines of Defense to learn more.
The system software from C2P convergence provides real-time integration and adds a searchable database. It can be used to integrate an IP door access control system or door intercom system with your IP camera system.
Panic buttons can be added to IP camera systems to provide immediate notification of security problems. The buttons can be placed in strategic locations or can be mobile. The new mobile panic buttons provide instant notification to the security staff. The IP camera system can be used to verify threats to the organization.
---
The license plate capture system includes the sophisticated conversion from an image to digitized computer data that can be compared to a database. LPR analytics is built into some IP camera systems.
---
Security can be improved when door access control and intercoms are added to your IP camera system.
Door access control assures that only registered people can enter the doors. Intercoms can control entry of visitors.
These combined systems maximize the safety and security in hospitals, schools, government, military, and other organizations.
Now it's easier than ever to install a door access control system using your existing Ethernet network. It can be easily integrated with an IP video surveillance security system. Take a look at the latest integration using C2P convergence software.
---
Intercoms attach to IP cameras or directly to the network. There are network-attached video intercoms that provide a completely integrated solution for manually unlocking the door.
IP cameras and door access control can be integrated in a number of different ways. Take a look at the article How to Integrate Door Access and IP Camera Systems. The article reviews all the ways to integrate these systems.
Learn More About Door Access Control …
---
Long-range PTZ surveillance cameras that work day or night are available with optical IP cameras, thermal imaging cameras, or both. These dual sensor systems can view objects that are miles away in total darkness. There are also PTZ cameras with built-in IR illumination that can be used to see about 600 ft. away.
Our long-range IP camera systems are used by the military to view borders, military operations, and rocket launches.
The very long-range optical IP camera systems include night-vision capability. The camera systems include high-resolution sensors, very long zoom lenses, and unique laser IR illuminators that allow you to see details that are over two miles away. It attaches to your network and can be integrated into a complete security system. Learn more …
Select from military or commercial grade cameras that can see even when there's no light. Thermal imaging cameras detect energy emitted from objects so intruders can be seen night or day. Objects can be seen through fog, smoke, sand, rain, and snow. Learn more …
Night Vision IR PTZ cameras allow you to see in the dark. These networked PTZ cameras with IR illuminator allow you to see over 180 meters (600 feet) away. Learn more …
---
IP camera systems are getting more intelligent every day. There are analytic camera functions that can create an alarm when someone leaves a package in the bus station or lobby,
There are systems that can read license plate numbers so you can match them to a database and others that automatically recognize a person's face.
Thermal cameras can see objects in total darkness and long-range cameras can see for miles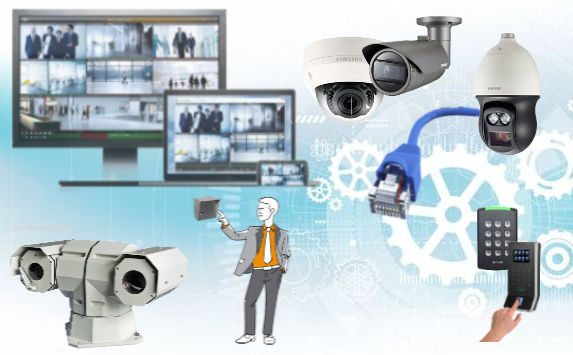 ---
This biometric door reader includes an IP camera that can be integrated with your IP camera system. It provides face authentication and temperature monitoring. It can prevent the entry of a person that has an elevated temperature or if they are not wearing a protective face mask.
Designed for organizations that need door access control as well as a way to screen people as they enter a secure area.
The biometric door reader includes an embedded thermal camera and the latest face recognition algorithm.
Special cameras for very low light or no light conditions are described. We compare hidden cameras, covert cameras, thermal imaging cameras, IR cameras, etc. Learn more …
This complete police, city surveillance system includes fixed or Pan Tilt Zoom (PTZ) IP cameras, NVR computer system with up to 1 TB of storage all in stainless steel environmental enclosure with blue light. Select from day/night, megapixel cameras or a variety of PTZ network cameras. Learn more …
A covert camera is designed to look like something else. Pin-hole cameras can be placed behind the wall or inside a pole providing hidden surveillance.
The covert camera can look like a clock, sprinkler system, or smoke detector. These cameras are used when you don't want anyone to know there is surveillance.
Many covert cameras are analog but can attach to the network using a video encoder.
---
If you like to see more technical jokes and cartoons to brighten your day, take a look at our technical blog. It also includes technical articles that help you learn about the technology we sell.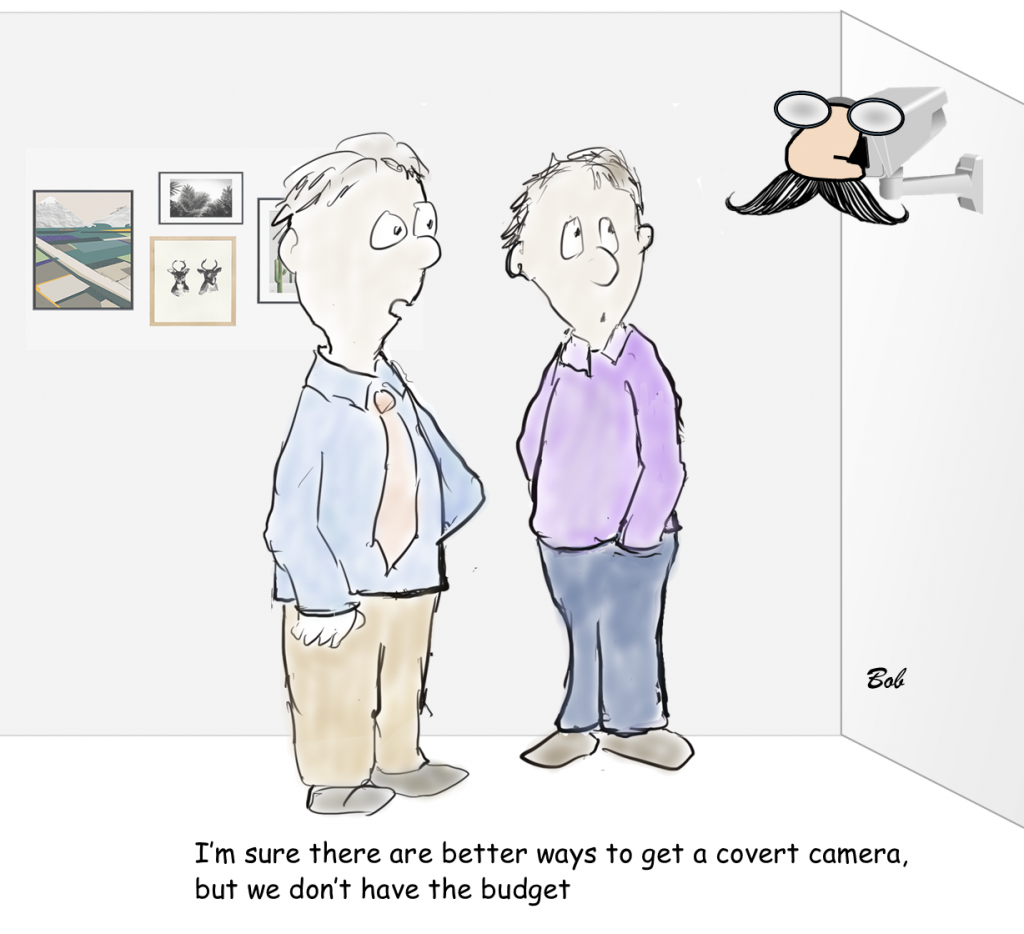 These hidden or covert type IP cameras don't look like standard dome or bullet IP cameras. They are classified as hidden cameras. You can select pole cameras, tiny cameras, and door cameras that can monitor people as they enter your facility.
IP covert cameras are available from Hanwha and Axis. These 2-megapixel cameras provide better performance than the older analog type hidden cameras.
---
What is an IP Camera System?
The IP Camera System consists of a set of IP cameras, a video storage system, network switches and routers.
The IP camera includes an appropriate lens, a video processing component, analytic computer, and an interface to the IP network. The camera sends the digital coded video over the network to a recording and monitoring system. The video storage system provides management of all the cameras, video storage, and display of the real-time and recorded video.
IP camera systems for business applications are different than home applications. The IP cameras for business provide higher performance and increased capability. The IP camera systems include the video recording system and many different types of cameras. The right camera depends on your application. The factors that affect the IP surveillance system include where you want to mount the surveillance camera, the details you need to see, the lighting, the distance from the camera and many other factors.
IP camera systems are also called CCTV surveillance camera systems, but the "IP" indicates they connect to the network rather than a coax cable. The IP camera system is one part of a complete security system.
To learn more about IP Cameras, please look at the article How the IP Camera Works.
What IP Camera System is Right for You?
How do you make sure you get the right equipment? The first step is setting your objectives. Objectives include how large an area you need to view, do you want to identify a person's face, day or nighttime surveillance, and more. Please read Technical Note: Defining the Objectives for Your IP Camera System to learn more.
The IP camera security system consists of many items that need to work together. It's important to make sure that everything is compatible.
Please contact us for assistance. We will be happy to make sure you get everything you need. Not only do we provide a complete IP camera security solution, but we also include free IP camera consulting services.
We provide technical advice and consulting that assures that you purchase exactly the right IP camera system you need.
Read more about What is a Complete IP Camera System …

For more information about IP Camera Systems, please look at our complete resource section. It includes how to get started, a buyers guide, understanding the technology, IP camera video recording systems, lenses, and applications.