Network Attached IP Intercoms for Mobile Devices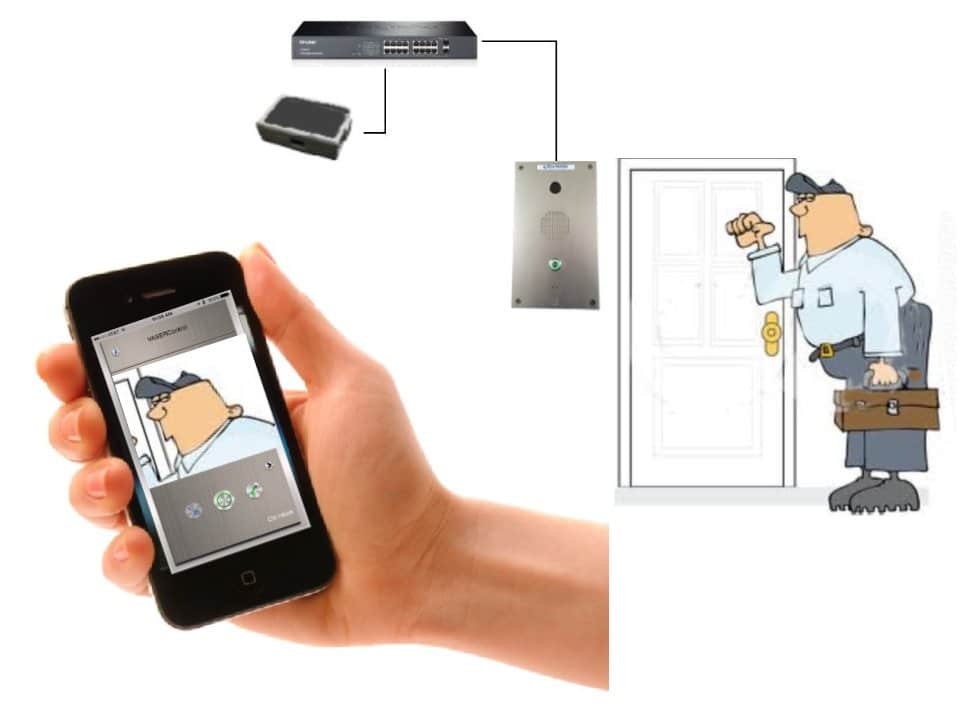 InterCam Mobile is a video intercom system that connects to your network. You can select a single apartment intercom or multi-apartment (or department) intercom dialer unit that is designed for apartments and office buildings.
The IP intercom can be answered using the VoIP phone, or your mobile device using a special app. It makes it very easy to open a remote door from anywhere. You can even use your smart device to view up to four IP cameras at a time, making it excellent for remote surveillance of your facility. The app on your mobile device can use WiFi network or cellular phone system to communicate with the intercoms.
It's more than just a network attached intercom system. The system is also an IP surveillance system that can view all the IP cameras in your organization.
This is very easy to install. It uses an IP Intercom Server that attaches to your network and allows you to communicate to all the devices in the system. Using your network router you can connect to mobile devices using WiFi or 3G / 4G connections.
System Diagram
The following diagram provides an overview of how the IP intercom system works. When a person selects the person in the building a message is sent to the app on the smartphone.  This opens a communication channel that allows the person at the door to talk to the person inside the building (or anywhere).
The message passes through the local intercom server, and then through the network switch and router to the cloud server.  Some intercoms have the intercom server function built-in. The message is sent from the cloud server to the smartphone.  Once the connection is established the person at the door can talk to the person inside. They can then remotely unlock the door.
Intercoms at the Door
Single Call Button Door Entry Intercom: This compact IP video intercom, is used to notify and talk to people in your organization. It connects to your network and uses PoE for power.
When someone pushes the call button, you are notified on your mobile device or the VoIP phone. You don't even have to be in the building to control the door since the mobile app can communicate to your mobile device using WiFi or 3G/4G. You can view the door, talk and release the door lock.
Our mobile intercom solutions include the Baudisch aluminum communication panel, which provides vandalism protected stainless steel switches with bi-color ring illumination (green/red) display.

Multi-call Dialer Intercom:
The InterCAM-Touch is an intercom with video designed for organizations that have multiple tenants. Using the touchscreen, you can easily find and call a specific corporate department or person in a multi-unit building. The person called can answer the intercom using our VoIP phone or the app on their mobile device. It's easy to view, talk and then release the door.
This panel is available with 10.4″ TFT type display. It includes a power supply for easy installation.
It includes a touchscreen and notification functions. It also has:
Optional built-in camera for video intercom
Graphical user interface
Connects to your mobile device using network,  WiFi or cellular communication
Other Intercom Panels:  We offer many other intercom panels from Baudisch.  You can select from a variety of videophone solutions, as well as audio-only versions. Contact us for the complete line up of panels and systems available.
Modular Intercoms – Build Your Own
These flexible intercom modules allow you to build the exact intercom system you need for your application.  Built around the latest IP audio and video network technology, they are easy to configure and install.
This is a very flexible IP intercom system:  Create a SIP audio only system or add an IP HD camera; add up to four call buttons to reach your apartments, or even add a single line LCD display to select from a list of 10 or more names.  These flexible, very high quality rugged, Baudisch intercom modules are made to last.
Answering the Door
View the person at the door and talk to them using your smart mobile device, or the VoIP phone. These devices allow you to open remote doors that have an electric lock.
Need more details about door access control and electric locks, take a look at our web pages or contact us for assistance in designing your system.
More details about the VoIP phone and mobile app are described below.
VoIP Phone for Answering the IP Intercoms
You can answer the IP intercoms using our VoIP phone. This VoIP phone includes a 3.5-inch display so you can see who's at the door even before you answer it.
This unique VoIP phone includes:
Intuitive menu structure
3-way conferencing (bridge on phone)
Caller identification on display Directory (250 entries)
Import/export of directory/phonebook
Speed dial
and a lot more
Answering the Door Using Your Mobile Device
The InterCam Mobile App allows you to answer an intercom call using your mobile device. It can be downloaded from Apple App Store or Google Play for Android.
Using this App you will be notified whenever someone pushes the call button on the intercom. This works either on a WiFi or 3G / 4G connection so you can be at your office or at your home and still be able to control the door.
The Answer Button: When someone presses your doorbell (or call button), the InterCam App starts automatically, and a real-time picture of your visitor appears on the screen.  Press the round answer button on your mobile device, and you can immediately hear and speak to your visitor. Push it again to hang up.
You have the option to open your door for welcome visitors, or to send away the unwelcome ones.  Push the button with the key on it to unlock the door remotely.  Of course, this assumes you have an electric lock on your door.  Let us know if you need help with your lock.
Use the phone button to initiate a call to another VoIP SIP device.
Multiple Doors and Video Surveillance: By using the arrow button you can move to other doors at your facility.  You can also monitor the video anywhere at your organization at any time using the video functions of InterCam
App. You can view many IP cameras, by using the arrow key to step through the available camera views.
Configuration: The controller establishes the connection with your mobile device through a WLAN or 3G/4G network connection. Establishing the connection requires only a few custom settings. Typically, these include your IP address and the port of the Mobile controller or external SIP provider.
From the App you can:
Answer the Intercom
Unlock the door
View a single or multiple cameras
Switch camera views
Contact us for help downloading the app. Call us at 1-800-431-1658 or 914-944-3425.
Technical Support
Intercom systems can be complex because they include many different components that have to work together. Kintronics is a resource for engineering and integration of all your security projects. We can design your complete system so don't hesitate to contact us for assistance.
After purchasing your system we make sure that it works exactly the way you expect. You can contact us for help with your installation and any technical support you may need.
We provide technical support and warranty support. Contact us at 1-800-431-1658 or 914-944-3425 whenever you need assistance.
Go to the
Kintronics
Home Page for more products.
Contact
us at or Call 1-800-431-1658 or 914-944-3425 to request technical information and our catalog of video products.
Kintronics, Inc. 500 Executive Blvd. Ossining, NY 10562 Tel: 800-431-1658 or 914-944-3425 (outside the USA)