Intercom for Apartments and Large Organizations
An apartment intercom is an intelligent panel with a touchscreen that allows the user to talk to a person living or working in a multi-tenant facility. This IP intercom panel provides wireless audio and video communication to the tenants.
Overview of the TruView-Touch7 Apartment Intercom
The apartment intercom attaches to your network and includes a door relay that can release the electric lock at the door. It is designed to increase security in any organization that has multiple tenants. Since the intercom connects to the tenants thru your WiFi or cellphone network, it is very easy to install.
Using the touchscreen, you can easily find and call a specific corporate department or person in an apartment building. The person called can answer the intercom using an app on their mobile device, or a standard telephone. It's easy to view, talk and then release the door.
This wireless system is excellent for new or replacement installations. It connects to the tenant's smartphones for completely wireless communication. The tenant can see and speak to the person at the door. Since the system uses cellphone data, they can control the door from anywhere in the world.
There are three mounting options. The TruView-Touch7 can be mounted on a wall or flush mount, or select the hood for outdoor installations.
The IP apartment intercom offers more than the basic functionality of a classic door intercom.
There are many excellent benefits such as being able to see who's at the door. The visitor can easily select the person's name from the list. If the selected person does not answer the call, an alternate person in the same apartment can be called.
---
Features of Apartment Entrance Touchscreen Intercom
Interactive touch screen display allows users to select the apartment or person
This TruView-Touch7 is available with a 7-inch TFT type display.
Graphical user interface
The Video Entry Unit controls door entry using a Smartphone App
Administration portal provided by cloud web-browser interface
Audio noise-cancellation provides clear intercom sound
Integrated IP Camera that can be viewed on App
Integrates with elevator control
Integrates with electric gates
Connects to your mobile device using a network, WiFi or cellular communication
Fast to deploy, easy to maintain
Power PoE or 12 VDC
---
How to Purchase Your Apartment Intercom
Here's how to order your Intercom System:
Call us at 914-944-3425. We are available 9 am to 5 pm EST, Monday through Friday, except holidays. If we are not there, leave a message and we will call you back.
If you don't want to call, fill out our request form. We will get back to you very quickly.
You can also send us an email

[email protected]

We will determine your requirements, provide suggestions with pros and cons, and pricing so you can make an educated decision.
If the equipment we provide doesn't meet the manufacturer's specifications, you can return it.
---
The Apartment Building Intercom is Cloud-Based
The lobby intercom panel connects to the cloud server to the mobile app on your smartphone, making this intercom very easy to install.
Video and Still Image – Date and Time Logging
The resident app and management portal display an image of all pin uses and a five-second video of all video calls with date, time and name of resident called. Data is stored for 90 days and can be exported via CSV
Limited Use Pins
This allows residents to send an entry pin from the MyDoorView app via text to a guest that will auto-expire after a pre-determined time and/or predetermined number of uses from 1-99. All successful and failed pin uses will capture an image. More than five failed attempts in a row will notify management by SMS text and/or email with images.
Other Intercom Panels: We offer many other IP intercoms. You can select from a variety of videophone solutions, as well as audio-only versions. Contact us for the complete line up of panels and systems available.
Answering the Door with Mobile App
View the person at the door and talk to them using your smart mobile device, or the wired phone. These devices allow you to open remote doors that have an electric lock.
Need more details about door access control and electric locks, take a look at our web pages or contact us for assistance in designing your system.
More details about the VoIP phone and mobile app are described below.
The Answer Button: When someone presses your doorbell (or call button), the mobile App starts automatically, and a real-time picture of your visitor appears on the screen. Press the round answer button on your mobile device, and you can immediately hear and speak to your visitor. Push it again to hang up.
You have the option to open your door to welcome visitors, or to send away the unwelcome ones. Push the button with the key on it to unlock the door remotely. Of course, this assumes you have an electric lock on your door. Let us know if you need help with your lock.
---
Configuration: The controller establishes the connection with your mobile device through a WLAN or 3G/4G network connection. Establishing a connection requires only a few custom settings. Typically, these include your IP address and the port of the Mobile controller or external SIP provider.
From the App you can:
Answer the Intercom
Unlock the door
View the door camera
Contact us for help downloading the app. Call us at 1-800-431-1658 or 914-944-3425.
---
Apartment Intercom Specifications
Display
Panel Size
Brightness
Resolution
7″ diagonal
400 nits
800 x 1280
Hardware
Processor
Quad Core A35
Connectivity
Wifi
Ethernet
Digital IO
USB
2GHz + 5GHz
RJ45 10/100 (PoE)
Relay x 2 RS485
Micro USB x 1
Multimedia
Microphone
Echo cancelling mic
Power
Power Supply
Either 12V DC or POE
Dimensions
10.25" x 5" x 1"
Options
RFID Card Reader
Buzzer and LED, 125KHz/13.56MHz,
EM4100, Mifare s50 S70, Desfire, FM1208
---
VoIP Phone for Answering the IP Intercoms
As an option, you can answer the IP intercoms using our VoIP phone. This VoIP phone includes a 3.5-inch display so you can see who's at the door even before you answer it.
This unique VoIP phone includes:
Intuitive menu structure
3-way conferencing (bridge on phone)
Caller identification on display Directory (250 entries)
Import/export of directory/phonebook
Speed dial
and a lot more
---
How the Multi-Tenant Network Attached IP Intercoms Work
InterCam Mobile is a video intercom system that connects to your network. You can select a single apartment intercom or multi-tenant building (or corporation) intercom unit. These IP connected intercoms are designed for use with smartphones.
The IP Multi-tenant intercom can be answered using your mobile device using a special app. It makes it very easy to open a remote door from anywhere. The app on your smartphone can use a WiFi network or cellular phone system to communicate with the intercoms.
This is very easy to install. The intercom attaches to the network and allows you to communicate with all your smartphones. Using your network router you can connect to mobile devices using WiFi or cellular 3G / 4G connections.
---
System Diagram
The following diagram provides an overview of how the IP multi-tenant intercom system works. When a person selects the person in the apartment building a message is sent to the app on their smartphone. This opens a communication channel that allows the person at the door to see and talk to the person inside the building (or anywhere).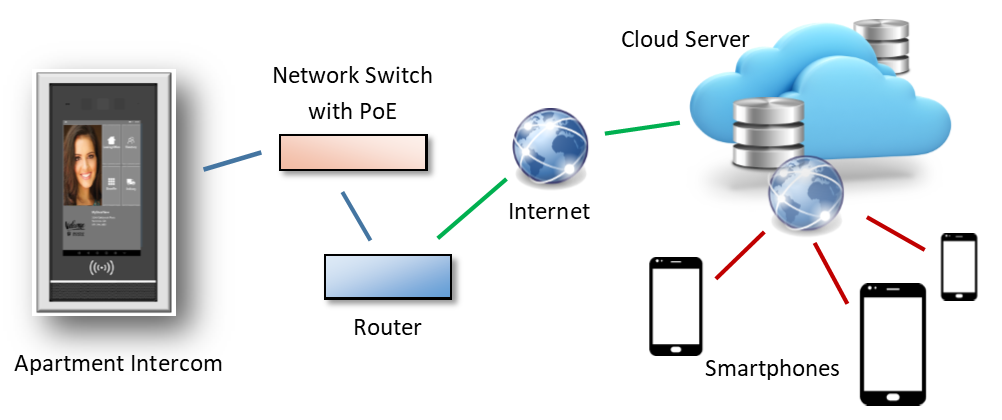 The message passes through the local intercom server, and then through the network switch and router to the cloud server. The intercoms have the intercom server function built-in. The message is sent from the cloud server to the smartphone. Once the connection is established the tenant can talk to the person at the door. They can then remotely unlock the door. The IP intercom system provides an increased level of security because it allows the tenant to see the person at the door.
---
Learn More
The following resources are available to help you understand the technology and select the right apartment intercom for your application.
There are several things to consider when selecting the apartment intercom. Some features and functions make the apartment system safer, easier to install, and easy to use. This article helps you understand the important issues to consider. Read more…
This article describes what an apartment Intercom is and how does it works. Read more…
The first intercoms were developed in the late 1800s. This article describes the evolution of the apartment intercom. They used speaking tubes to talk to other people in the building. The IP intercom is the latest way of hearing and seeing the person at the door. Read more…
This article describes the four levels of defense that help to provide increased safety and security to people in a multi-tenant building. Read more...
Technical Support
Intercom systems can be complex because they include many different components that have to work together. Kintronics is a resource for engineering and integration of all your security projects. We can design your complete system so don't hesitate to contact us for assistance.
After purchasing your system we make sure that it works exactly the way you expect. You can contact us for help with your installation and any technical support you may need.
We provide technical support and warranty support. Contact us at 1-800-431-1658 or 914-944-3425 whenever you need assistance.
---
Go to the Kintronics Home Page for more products. Contact us at or Call 1-800-431-1658 or 914-944-3425 to request technical information.
Kintronics, Inc. 500 Executive Blvd. Ossining, NY 10562 Tel: 800-431-1658 or 914-944-3425 (outside the USA)