We compare IP cameras and how they are used in the IP camera system.
An IP camera is a surveillance camera that connects to the network. It consists of an optical sensor, lens, video processing circuits, and a network interface. It is used in an IP camera system that consists of video recording system, video management software, network switches, and computer display systems.
There are many different CCTV (Closed Circuit TV) IP cameras available and it can be confusing. IP cameras can be inexpensive, but don't look for the least expensive camera. Look for one that meets your requirements. Otherwise you'll waste your money.
The IP Camera chart below compares the cameras available from some of the major IP camera manufacturers. Take a look at the list of IP cameras below, and then contact us for assistance. We will be happy to help.
The complete IP surveillance system includes not only the cameras, but it also includes Video Management Software or NVRs, lenses, enclosures, network switches, and even analytic software. A complete security system can also include door access control, intercoms, and network-attached emergency paging.
An IP camera system is used for such things as surveillance, monitoring manufacturing processes, education, monitoring weather, watching wildlife, and even viewing the inside of a furnace. It is important to select the right IP camera for the application. For example, a camera that views a doorway is different than one that views a parking lot.
For more information, look at our articles, What is the Best Price to Pay for your Camera?, and IP Camera Price to Performance Table.
Professional Cameras for Your IP Camera System
The Hanwha Vision (previously Techwin) IP cameras conform to the National Defense Authorization Act (NDAA), effective August 13, 2019, specifically section 889.  This means they are the best choice for government projects that require products that comply with all government and international trade regulations.
They have a full line IP megapixel surveillance cameras that attach to your network. These are professional cameras that are designed for businesses, schools, hospitals, military, and government applications. They have been making quite an impression in the security and surveillance market because they have excellent performance and pricing. You will find that their IP cameras provide better cost-performance than Axis or Sony.
Hanwha Vision (Techwin) provides IP cameras, NVR systems, and VMS software.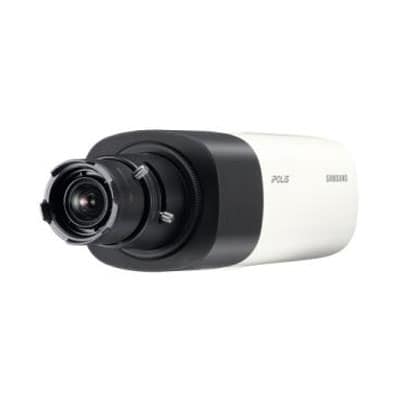 The Hanwha box IP cameras are great for applications that require special lenses and enclosures. The high-performance models include remote focus and wide dynamic range.
Bullet cameras with IR illuminators are easy to install and have many advanced functions such as remote zoom and focus lenses. All these IP surveillance cameras are powered using PoE.
Dome IP cameras are unobtrusive and nice-looking. They are easy to install. The high-end models include remote zoom and focus lenses. IP cameras that support two-way audio, and have input and output connections, are the best choice when you need to add an intercom for remote door access control.
Hanwha's new 2-megapixel PTZ IP camera provides amazing long-range viewing. It far surpasses the similar Axis 2 megapixel camera which only has a 20X zoom lens versus the 32X zoom lens provided by the Hanwha (Samsung) camera.
Full line of Samsung Hanwha IP Cameras
Hanwha hidden or covert type IP cameras don't look like standard dome or bullet IP cameras. They are classified as hidden cameras. You can select pole cameras, tiny cameras, and door cameras that can monitor people as they enter your facility. Read more…
Dome cameras are available for indoor and outdoor applications. These cameras look nice, are protected from damage (especially the vandal-resistant versions), and some have remote control lens adjustment making them very easy to install. The latest P33 series of cameras include improved light handling capability that includes wide dynamic range and very low light sensitivity.
Box cameras provide the flexibility of using different lenses. There are models for just indoor applications and others that can be used outdoors.
The outdoor-ready models have the ability to operate in a wide range of lighting because they include auto-iris lenses.
Pricing ranges from under $179 to over $1200 depending on performance, resolution, and functions. The new outdoor-ready cameras are available in enclosures that are powered over Ethernet (PoE)
There is a choice of economical or high-performance Pan Tilt Zoom (PTZ) IP cameras to choose from. PTZ cameras are available with up to 2-megapixel resolution.
These High-performance PTZ are outdoor-ready, and some are powered by PoE. They provide up to 36X optical zoom with image stabilization. AXIS is one of the largest manufacturers of IP cameras and systems. They provide excellent technical support and have a wide selection of cameras.
Take a look at the full line of Axis cameras.
Sony has very high-performance IP cameras that include box, bullet, dome, and PTZ cameras. They all feature excellent low light performance and wide dynamic range. It is one of the best cameras to use in challenging lighting situations.
Fixed cameras include megapixel resolution and outdoor rated bullet cameras with IR illuminators. The cameras feature remote back focus.
Dome cameras include megapixel resolution and IR illuminators. They feature remote zoom and remote back focus that makes installation and set up very easy to do.
PTZ IP camera systems have Megapixel resolution, with up to 30X zoom. These cameras have an excellent wide dynamic range.
More Sony IP cameras. Sony has a complete line of excellent cameras for many different applications.
---
Other Cameras
The following cameras are available but may not be the best choice for your surveillance system. The brands listed above provide better cost-performance solutions.
IQinvision merged with Vicon to create a new company that offers a larger variety of products. The old IQeye cameras are no longer available. Take a look at Hanwha (Samsung), Sony, and Axis cameras.
IQinvision was founded in 1998 and was the place to go for high-resolution cameras. Now there are many other surveillance camera manufacturers that provide higher resolution cameras.
The benefit of high-resolution IP camera is that it allows you to identify a person's face or license plate number in a wide field of view. IQinvision had a number of good indoor and outdoor-ready box and dome cameras available that were powered over Ethernet (PoE).
For reference only see the full line of IQinvision Cameras
---
Panasonic has a small number of IP camera products. See the full line of Panasonic cameras and contact us for pricing. Panasonic provides a wide selection of hybrid cameras that have both analog and network connections. They also have a number of dome and PTZ cameras that provide very good performance.
---
Brickcom provides low-cost cameras and is not the best choice for professional surveillance solutions. It has a selection of cube, dome, bullet, and other surveillance cameras. Besides the standard models that include PoE power, there are models that include wireless and 3G SIM card options. More about Brickcom
Canon purchased Axis and now their cameras are part of the Axis Line up. The traditional Canon cameras made use of the Canon lens expertise. They featured megapixel resolution with excellent low light sensitivity. More about Canon.
IPX (Discontinued)
The following cameras have been discontinued: IPX-DDK-1700 Box camera | IPX-DDK-1700D Dome Camera
The information is for reference only. This camera manufacturer had limited IP camera models. The low-cost 2-Megapixel dome IP camera included built-in IR illumination allowing it to see in the dark for a distance of 60 ft. It can be used indoors or outdoors.
JVC has limited styles of IP cameras in their line-up. They include megapixel surveillance cameras. The latest cameras feature "fine adjust" focusing. More JVC cameras
Vivotek provides low-cost cameras and is not the best choice for professional surveillance solutions. It is manufactured in Taiwan. They provide reasonable quality cameras at low prices. They have a wide variety of economic dome and box cameras. More about Vivotek
Unfortunately, Hikvision IP cameras and systems are no longer available from Kintronics because of the current US government restrictions. Please take a look at the other IP Cameras we have available.
When Hikvision IP cameras were introduced in the USA, their mission was to replace Axis as the dominant camera provider. Today they are the largest manufacturer of IP cameras in the world.
Hikvision has continued to improve its camera performance, and are now comparable to Samsung (Hanwha) and Sony cameras. We tested their new cameras and were impressed by their performance. They added wide dynamic range and remote zoom and auto-focus lenses that dramatically improved their overall capability.
There is a wide selection of surveillance cameras including, box, dome, bullet, and PTZ IP cameras. The cameras range in price from under $150 for the "Value Series" to the high-performance 4K, 8.8-megapixel outdoor camera with a remotely adjustable lens at under $1,200.
Hikvision also has some very nice Network Video Recorders (NVR) systems. The recorders also support some other camera manufacturers such as Axis, Canon, Sony and other cameras that are compatible with ONVIF.
---
What is an IP Camera?
An IP camera is a surveillance video camera that attaches to the network. There are many types of IP cameras that are designed for specific applications. The latest IP cameras are powered using Power over Ethernet (PoE) and include the lens and enclosure. IP cameras are available as dome cameras, box cameras, bullet cameras, and PTZ cameras. The IP camera is just one of the components that make up the complete IP camera system.
Some things to consider before purchasing your IP camera: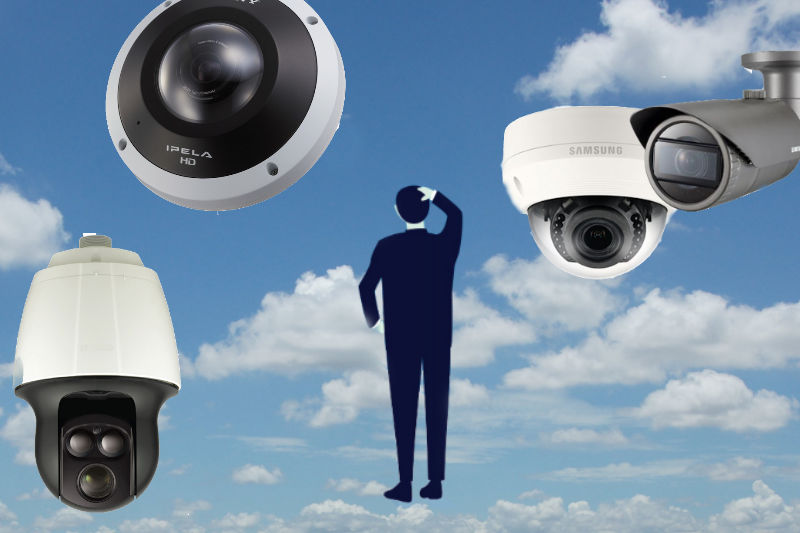 IP Camera Resources
To learn more about IP camera systems take a look at our articles:
---
If you would like help selecting the right IP camera, please contact us. We can be reached at 800-431-1658 in the USA or at 914-944-3425, or just use our contact form.
---