Product Highlights
How IP Security Devices Work Video
What's Inside the IP Camera, Door Access System, and IP Paging Systems
The following video helps you understand the technology. We try to provide all the information you need so you can make an intelligent decision about your security system.
If you need more information about any of our IP security devices, please contact us at 1-800-431-1658 in the USA or 914-944-3425 everywhere else, or use our contact form.
---
Smart Cameras Make a Difference
The latest IP camera systems are getting very smart. Advanced cameras and the latest video management software provide the capability of adding if-then logic. This means that you can add unique routines for your specific application. This automation allows you to customize your IP camera system to respond to immediate threats.
The new IP surveillance camera system if-then automation, provides critical alarms and reduces the time needed to respond to an emergency.
---
A combination of IP Camera, Door Access Control, and IP Audio Technology
The old analog-type apartment intercom systems required wires from the lobby intercom to each apartment. An intercom in each apartment allowed the person to talk to the visitor in the lobby. The tenant could then press the door release button to open the front door.
The latest wireless apartment intercom systems don't require wires. Instead, the resident is reached on their smartphone or standard phone to request entry into the building. Not only can you talk to the visitor, but you can also see who it is.
This combination of Door Access Control, IP Audio and IP Camera technology is an excellent choice for replacing the old analog intercom systems or for new installations.
The apartment lobby panel only requires a network connection with PoE and the electric lock release, so wiring is simple.
The lobby intercom display provides a list of all the tenants in the building. Once the tenant is reached, they can release the lock on the front door (or not). Since the communication channel is over the Internet, the tenant doesn't have to be in their apartment; they can be anywhere in the world.
Learn more about Apartment Intercoms…
---
Integration of access control and IP camera systems improves safety by allowing the security personnel to view areas while monitoring doors controlled by door access control.
The integrated system provides video displays imported from the VMS on the same screen as the access control system. Predefined alerts, such as "door held opened" or "door forced open," can be displayed so that the security personnel can immediately learn of any safety threats. The new systems include if-then logic that provides complex branching actions. Over 40 customizable actions can trigger the system.
By linking the access control with Video Management Systems such as WAVE and Ocularis, the safety person can see all the doors, inside elevators, or preset PTZ positions.
---
Now you can wave your hand over the door reader, and it will open the door.
The Bluetooth (BT) door readers can open the door in several ways. The credentials are stored in the smartphone app. There are identification modes that provide the security and convenience that you need.
Card Mode
Place your smartphone in front of the reader just like you would do with a card credential. This virtual credential mode is free.
Slide Mode
Slide. Come in! Your hand becomes a card that you always have on you, without needing to take out your smartphone.
Tap-Tap Mode
Tap and enter! You can open a door by tapping your smartphone twice in your pocket for close or remote access.
These mode requires the purchase of a virtual card credential.
Hands-Free Mode
Just walk past the reader! There's nothing else to it! The distance from the smartphone to the reader is adjustable to maintain security.
---
PTZ Cameras that See in the Dark
The latest PTZ camera provides 4K resolution and a 30X zoom lens. The XNP-9300RW PTZ camera also includes a powerful IR illuminator that provides viewing in total darkness at a range of 200m (656 ft).
This PTZ camera is a very-high 8-Megapixel PTZ camera with IR and a built-in wiper. It has a 30X lens that provides enough resolution to identify the size and shape of a person that's about 1 mile away.
The high resolution allows you to identify a person in a field of view of over 32 feet.
---
Cameras for Extreme Environments
These camera systems protect IP cameras from extreme and harsh environments. They also provide the protection necessary for operating in explosion-hazardous areas.
High-Temperature Environments: These IP camera systems are designed to operate in extremely high temperatures, such as blast furnaces or rocket test viewing. The liquid-cooled enclosures can protect cameras in an environment where the temperature reaches up to 400 C (750 F).
Cameras for Corrosive Environments: The second type of enclosure is designed for saltwater applications like marine or coast patrol, industrial or chemical applications, and where external agents are highly corrosive.
These unique explosion-proof camera systems are designed for use in areas with a risk of explosion, such as refineries, gas pipelines, oil tankers, offshore platforms, industrial processes, chemical industries, etc.
The latest Intercoms for apartments and multi-tenant buildings are easy to install in new and existing buildings. The reason they are so easy to install is that they are wireless.
The apartment intercom is an intelligent panel that includes a touchscreen that allows the user to select the person they want to contact. The IP intercom panel provides wireless audio and video communication to the tenants. It includes a door relay that can release the electric lock at the door. It is designed for any organization that has multiple tenants.
You can easily find and call a specific corporate department or person in an apartment building using the touchscreen. The person contacted can answer the intercom using the app on their mobile device. It's easy to view, talk and then release the door.
The latest IP cameras provide excellent low light sensitivity. This means you can see things without adding extra light. The camera stays in color even when there is very little light. They can see things in gray-scale at much lower light than the older IP camera systems. The processors in the cameras have become much more powerful, enabling them to reduce noise associated with low-light conditions and enhance the video.
We used to be happy with cameras that could see at 0.1 lux in color, but now we have IP cameras such as the PNV-A6081R that have low-light sensitivity in color at 0.007 Lux. The camera can see at night when the stars are shining.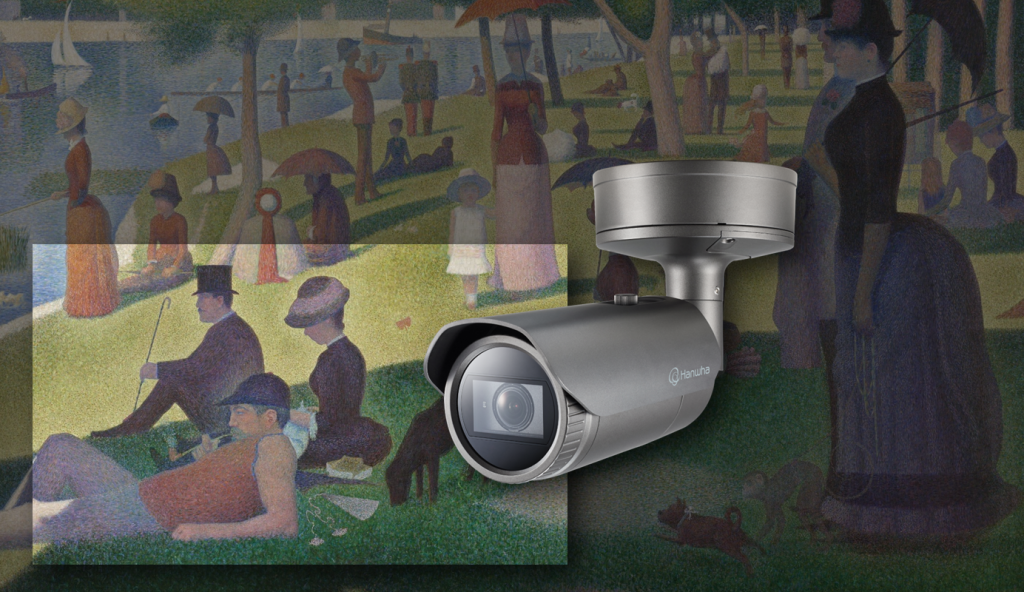 ---
We have come a long way since the early magnetic stripe cards. The variety of door readers used in access control systems has increased dramatically over the last year.
These slave door readers connect to an intelligent controller such as the Hartmann controller. The readers support Radio Frequency ID (RFID) credentials, biometric readers, or mobile credentials provided by the person's smartphone.
Using your mobile phone improves security since it's less likely to give your phone to another person. It also saves on the cost of card credential purchases.
Would you like to know the moment when someone takes your laptop? Would you like to know when someone screams in the lobby of your building? How about detecting a gunshot? The latest IP cameras include more powerful artificial intelligence. These cameras help protect people and assets. They notify you of dangerous situations, help deter terror attacks, and even tell you how many people have visited your store.
As an example, Hanwha's latest intelligent IP cameras provide "narrow artificial intelligence" capability. They can make decisions about objects they observe and categorize them into classes. The classes can be used to help find the critical recorded video. The latest IP cameras can also use object information and other detection rules such as line-crossing to notify users of an event.
Easy IP Camera Setup and Adjustment
One of the most impressive innovations available for IP camera systems provides remote final camera adjustment.
It makes life so much easier when you don't have to make adjustments on a ladder. Yes, the cameras with remote pan, tilt, rotate, and zoom (PTRZ) cost some more, but if you don't need another person to help with the installation, it may be worth it.
Some bullet and dome cameras include remote zoom and focus, but the latest IP dome cameras have the ability to pan, tilt, rotate, zoom, and focus (PTRZ).
These cameras can be aimed and focused from your computer.
For example, see the XNV-6081Z. This Wisenet X-Series cameras can be adjusted from your smartphone using a USB dongle, and free smartphone app.
IP Cameras with PoE Extension
Some of the latest Wisenet X-series IP Cameras include PoE extender capability that provides a savings in installation of multiple cameras.
Each Wisenet X series PoE extender camera is equipped with a secondary network port, allowing you to power and connect an additional PoE or network device at distances of up to 260 feet away – saving you time and money on long cabling and installation runs traditionally associated with connecting additional devices to your network. Power and connectivity to the secondary network port can then be monitored and controlled in real time from the camera's web user interface.
Learn more about the X series IP cameras with PoE extended capability.
---
Customizable Crisis Levels is a Key Advance in Door Access Control Systems
Customizable Crisis levels can be defined. Many input triggers such as triple swipe, a special card, a mobile app can create an appropriate notification.
For example, a crisis level can restrict what type of users can go through the door and change the mode of the door, such as making a public door into a door that needs a card and a PIN.
---
Product List
---
---
The IP cameras from Axis are well known in the industry. They provide a very wide selection of cameras and accessories that can be used in many applications.
---
The special stainless steel enclosures provide protection in the harshest environments. The enclosures protect cameras from the very high temperature of blast furnaces or rocket launches. The special explosion-proof enclosures allow you to use IP cameras in areas with risk of explosion, such as refineries, gas pipelines, oil tankers, offshore platforms, industrial processes, chemical industries, etc.
---
Our product line changes as new technology become available. Kintronics provides the latest technology that can improve your safety and security. Please take a look at the other network attached security systems we have available. These include IP camera systems, door access control systems, and network attached paging systems.
---
---
Hanwha (used to be Samsung) has five families of cameras: the WiseNet lite, P series, Q series, WiseNet III series, and the highest performance X-Series. Hanwha has an IP Camera for almost all applications. They provide the best cost-performance solution in the security industry.
---
Hikvision is one of the largest manufacturers of CCTV surveillance cameras. Their IP cameras feature megapixel resolution, wide dynamic range, and remote zoom and autofocus lenses.
Unfortunately, Hikvision IP cameras and systems are no longer available from Kintronics because of the current US government restrictions.
---
---
---
---
---
---
---
---
---
---
---
---
---
Sony provides one of the highest resolution cameras with low-light sensitivity that allows you to see in partial moonlight.
---
---
---
---