Temperature Monitoring Door Access Control for Health
Organizations are still transitioning between working at home and returning to work. Many organizations are looking for ways to make the work environment as safe as possible. There are so many infectious diseases in the news today it's hard to keep track and, significantly, how to mitigate the spread of disease. This winter, health experts worried about the "tripledemic" of respiratory illness. They were concerned not only about Covid but also about flu and respiratory syncytial virus (RSV).
Since temperature is one measure of illness, many organizations have added temperature monitoring at the entry points of the buildings.
This article reviews various devices that can control the door and monitor a person's temperature.
Multifunction Door Readers with Human Temperature Monitoring
These touchless screening devices provide face recognition and temperature monitoring for door access control. Everyone entering a building can be identified and monitored. The panels help maintain a safe environment in schools, hospitals, corporations, and government facilities. Some models can be integrated into existing door access control systems.
Single Door Access Control
The FaceBioPro includes a touchscreen that makes it very easy to install. The network-attached panel can be configured from the touchscreen or the web browser interface. It can be integrated with other door access systems using the Wiegand interface. It also measures a person's temperature even when they are wearing a mask.
This face recognition panel is best used when you need one that can connect to an access control system. It can also be used as a standalone entry control system that can measure a person's temperature even when wearing a mask.
Multi-door Access Control
The TVIP-MultiBio is a more advanced unit that provides multiple features. It includes more advanced software integration with door access and visitor management systems. It also has palm recognition to enhance biometric door access. The Door access control software and visitor management software are available to provide advanced door access control solutions. It also provides a touchscreen for easy configuration.
The MultiBio is best for integrating with other biometric door access control readers or requiring integration with a visitor management system. It is also the best choice when multiple doors share the same face credentials.
Touchless Door Entry
The latest face-recognition door control uses more powerful computers with more sophisticated algorithms. These reader controllers use an Android panel that provides increased performance and functionality. Unlike the older door access control readers, all the intelligence is built into the unit. This offers more flexibility since it can connect to the network or use its Wiegand connection to connect to an older access controller box.
Here are some examples of face-recognition door access control readers.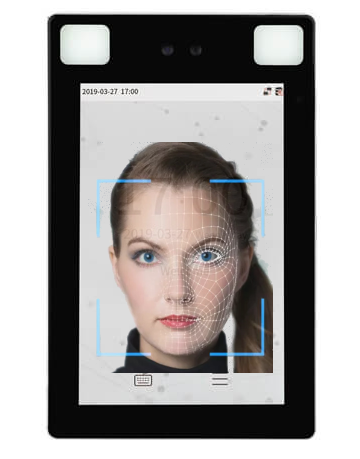 Indoor Face Recognition
The TVIP-Face5V is a high-performance indoor face recognition reader designed for high-speed recognition. It includes touchless entry control for door access control systems.
Outdoor Rated Face Recognition Access Control
The TVIP-Face8WP is one of the few door readers that can operate outdoors. It has been designed to work in variable outdoor lighting conditions and can survive in harsh weather and a wide temperature range between -22F and 140F. This 8-inch outdoor-rated panel has weatherproof IP-68 specifications.
Safe Visitor Management
Today's heightened interest in security and health has resulted in the need for Visitor authentication and management systems.
Visitor management systems provide visitor tracking, authentication, and health monitoring. They can include kiosks with touchless access control panels that provide facial recognition, temperature monitoring, and mask detection to keep your organization safe.
These new visitor management systems allow you to send invitations to meetings. They also can register a walk-in visitor. The software is available for on-site or cloud applications.
The visitor management control system incorporates a health questionnaire that automates the health check process for visitors.
Summary of Access Control and Health
Face recognition has been enhanced with temperature monitoring to reduce the spread of infectious diseases. It makes it safer for the returning workforce. Several new door access systems are easy to install and provide touchless identification. The temperature monitoring panels only operate indoors, and one face-recognition panel, without temperature measurement, can work outdoors.
---
If you would like help selecting the best biometric door access system, please get in touch with us at 1-800-431-1658 in the USA or 914-944-3425 everywhere else, or use our contact form.