Comparison of Emergency Buttons
By August of 2022, there had been over 300 mass shootings in the United States. With the increase in mass shootings, Panic Buttons have become more popular. Several emergency notification systems have been developed over the past few years to address this requirement.
This article compares the different systems available and how they can be used.
The panic buttons can be integrated with IP camera systems, paging, or mobile emergency notification systems. Whether you need to notify people about a fire, or the security person about an active shooter situation, these systems have become a valuable addition to the security products at many organizations.
Panic Button Added to the Automated Paging System
Specific IP paging systems include "if-then" logic, making adding panic buttons easy. A panic button attached to an IP paging system can automatically notify your organization about emergencies such as a fire or an active shooter. The automated notification can also open or lock electric locks, sound an alarm, or inform emergency services.
The button can be connected directly to the IO input of the IP audio device. The signal alerts the command control software. The "if-then" logic generates a pre-recorded announcement, such as "Fire detected; please exit the building!" The system can be programmed to alert the security person, so instead of generating an automated message, it can allow the security person to make the decision. Either way, the panic button alert provides a rapid reaction to dangerous situations.
How it is used: The panic button is placed on desks and walls and used in school administrative offices, hospital nurse's stations, houses of worship, and military organizations.
Using an IP Camera System to Create an Automated Response
An IP camera system can be used as a bridge to a remote IP audio device.
A panic button can be wired to the input of a convenient IP camera to simplify the wiring of a panic button system. The output of an IP camera located at another location can be wired to an IP audio system. This type of configuration makes wiring a panic button system much more accessible.
When the panic button is pressed, the signal can be controlled by both the IP camera video management software and the IP paging software. It provides a very flexible solution.
Panic Buttons Added for Fire Alarms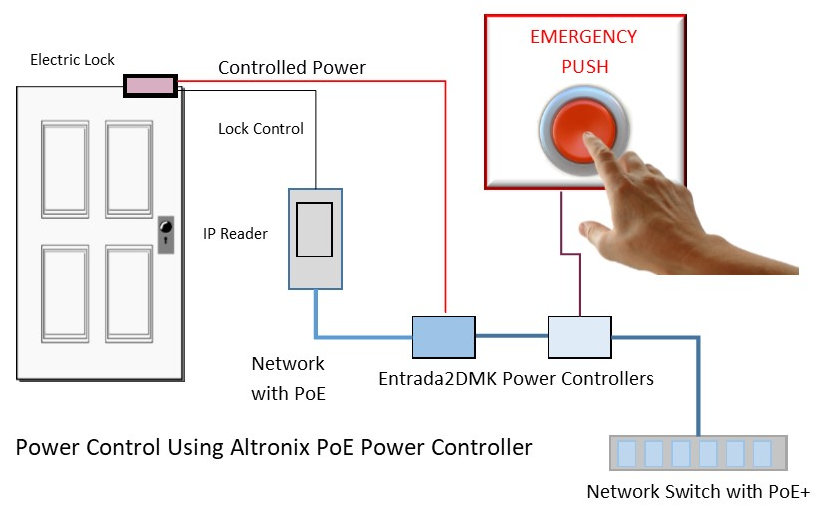 Door access control systems control electric locks in your organization. They prevent the wrong people from getting in, but ensuring that the doors are unlocked in emergencies is essential. This is especially true when magnetic locks are used. A panic button can ensure that all the doors controlled by electric locks are opened in an emergency, like a fire.
There are a few ways to control electric locks. For example, you can attach the button to a relay that opens the power circuit to all the locks. Alternatively, you can add a device-side PoE adapter that provides power to the electric lock. When the alarm button is pressed, the controlled power to the lock is removed. For example, the Altronix transmitter and receiver adapters can control the power. It uses a dedicated network cable between the Altronix transmitter and receiver adapters. Several receivers can be daisy-chained to one of the receivers connected to the transmitter.
How fire alarm buttons are used: These buttons are placed on walls near exits, in administration and safety offices.
The latest security innovation is a panic button that you can carry with you. The mobile panic button attaches to your keychain and provides instant emergency notification. The emergency button and service enhance your organization's security.
The mobile panic button operates through cell phone services, so they are not tethered to one location.
The new panic buttons include GPS locating, monitored travel, two-way conversations, and silent audio monitoring. They operate anywhere in the USA and use flexible safety centers.
Instead of mounting buttons around the campus, you can have a panic button that travels with you. Whether you are in a school building, inside a corporation, work in a hospital, or provide outpatient nursing help, you can utilize the mobile panic button. The ability to give a rapid notification allows the school administration or hospital staff to quickly respond to medical emergencies, fire, active shooters, or any other emergency.
The safety response center can be any place you choose. Many panic button systems are connected to a specific emergency answering service that helps to verify and provide emergency response. The latest approach is not tied to any particular service. You can establish a response center in your corporation, hospital, school, or hotel.
How the mobile emergency button is used: This mobile panic button helps make people on the move safer. Visiting nurses, hospitality personnel, social workers, salespeople, and emergency responders use these emergency buttons.
To learn more, read the article Mobile Panic Buttons for Business, Schools, and Healthcare
Summary of Panic Button Applications
Panic buttons are an essential part of a security system. They immediately notify everyone of dangerous situations and allow the safety team to respond quickly. They can notify the organization of fires, active shooters, and other hazardous conditions.
---
If you would like help selecting the right panic alert system, please contact us at 1-800-431-1658 in the USA or 914-944-3425 everywhere else, or use our contact form.