Comparison of Face Recognition, finger-vein, and Fingerprint Access Control
Biometric readers are used instead of card readers to open a door. They identify a human characteristic, such as your face or fingerprint, and are much more secure than standard card credentials. Card credentials can be stolen, lost, or given to another person.
This article compares some of the popular biometric readers.
Biometric identifiers are the distinctive, measurable characteristics used to label and describe individuals. Instead of storing a picture of our actual fingerprint or face, the biometric readers scan your physical attributes and convert these minutiae points to encrypted binary data. The code is transformed into an ID number that is used for access control.
Everyone has patterns of ridges on their fingers. These fingerprints are uniquely detailed, stable over an individual's lifetime, and difficult to alter. Because there are countless combinations, fingerprints have become an ideal means of identification. There are four kinds of fingerprint scanners: optical scanners, capacitance scanners, ultrasonic scanners, and thermal scanners. The primary function of every type of scanner is to obtain an image of a person's fingerprint and find a match for it in its database.
Most fingerprint readers are used indoors because changing weather conditions can interfere with reliable fingerprint acquisition. The TVIP3F-ProWP is one of the few biometric readers that can be used outdoors.
Many fingerprint readers have problems reading dry and damaged fingerprints. The new readers include advanced technology that can read these challenging fingerprints. They are also able to detect live fingers for a higher security level.
Some fingerprint readers can also use card credentials or PINs to control entry. Unfortunately, some fingerprints can be difficult to read, so readers that include alternate ID verification, such as card credentials, are helpful.
Face recognition has replaced many fingerprint readers because of increased reliability. To learn more, see Fingerprint Readers.
The matching and verification algorithm for finger-vein identification is more accurate than the fingerprint method but is not a touchless door entry.
Even though this is a reliable biometric reader, it is not as popular as fingerprint readers or face recognition.
These specialized facial recognition systems use cameras to capture the full facial image. The software uses various computer algorithms to build a definition data set, including machine learning. Facial recognition indoors is more reliable than outdoors because the changing light makes the recognition process difficult. The TVIP-Face8WP face recognition panel is one of the few outdoor devices because it has intelligence that allows operation in changing light and weather conditions.
Our article, Face Recognition for Door Access Control, provides more details about access control technology.
Over the last year, new face recognition panels have been introduced with temperature measurements. This allows any organization to check the identity and the temperature of the person entering.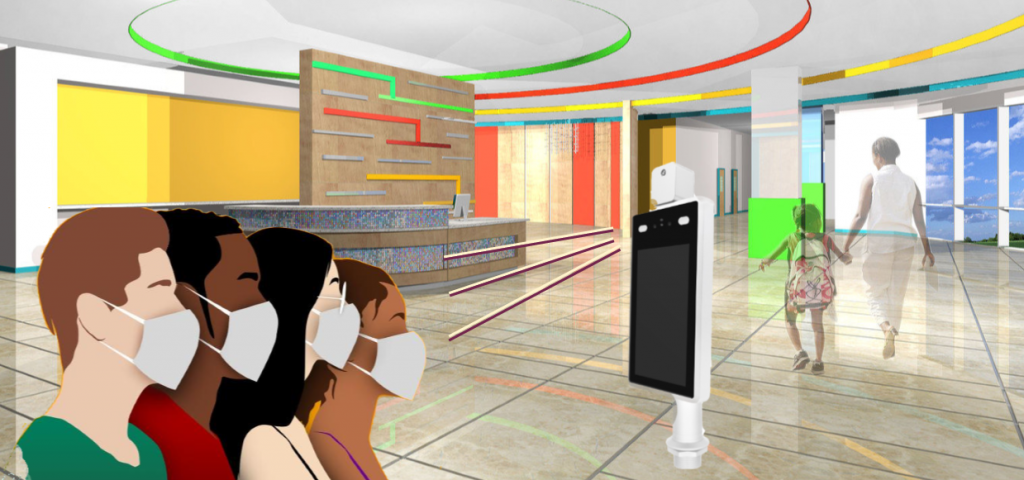 Several temperature screening devices are available, including handheld thermometers, thermal scanning cameras that measure many people at a time, and entry panels that check each person at the door. The individual door panels are the most popular. These panels can control a door, make audio announcements, detect if a person is wearing a mask, and notify a central security person over the network.
Unfortunately, these temperature readers only work indoors where the ambient temperature can be controlled. To learn more, read Comparison of Face Recognition and Temperature Access Control Panels
Summary of Biometric Door Access Control
Biometric door readers such as fingerprint and face recognition readers provide an alternative to card credentials. The obvious advantage is that your biometrics are more secure than a card. Fingerprint readers are easy to use but are not as reliable as finger-vein readers. Face recognition panels provide touchless door entry that can be very important when health is a concern. Face recognition with temperature monitoring adds health safety to your access control system.
---
If you would like help selecting the best biometric door access system, please contact us at 1-800-431-1658 in the USA or 914-944-3425 everywhere else, or use our contact form.