Long-Range PTZ Cameras and Counter-Drone Measures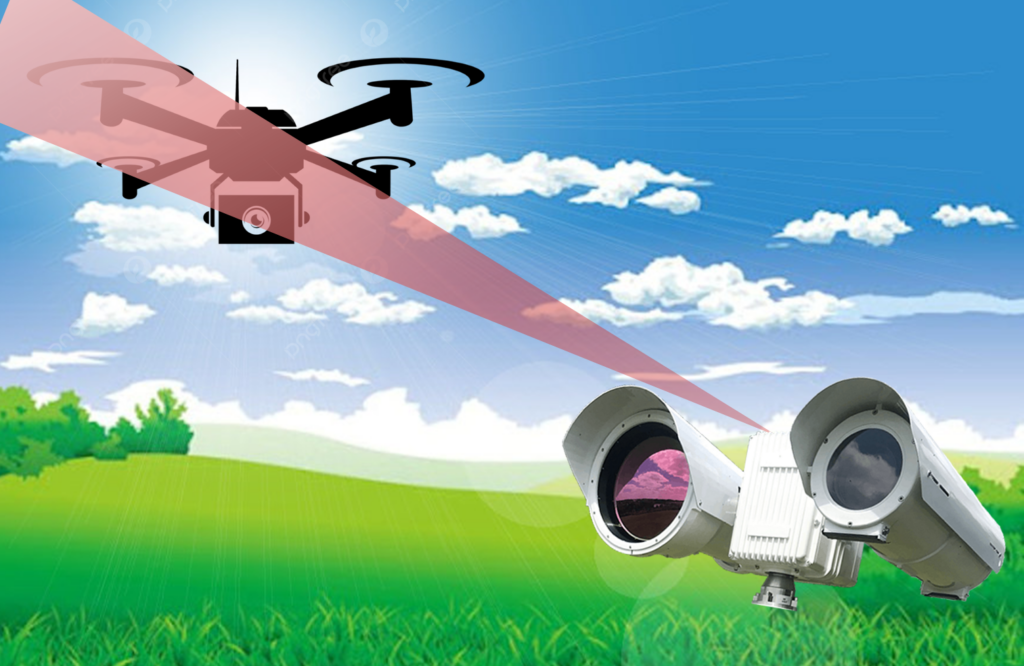 The rise of drones as a weapon has resulted in an increased demand for effective countermeasures. Drones can be used for illegal activities, such as smuggling or spying. They can also be used to carry out attacks or disrupt critical infrastructure.
Overall, drones can be a valuable tool in many contexts, but it is essential to consider the potential risks and take steps to mitigate them.
This article describes how enhanced long-range PTZ camera systems can protect us from drones.
Enhanced Long-Range Surveillance Cameras
The need for precise and reliable detection and identification of Unmanned Aerial Vehicles (UAVs) has become paramount for government agencies, law enforcement, and military organizations worldwide. There are several ways to stop drones, depending on the situation and the threat level posed by the drone.
The Kintronics long-range camera and anti-drone systems offer an array of long-range camera systems with options incorporating advanced camera technology for effectively detecting and identifying UAVs. The company specializes in cooled and uncooled, long-range thermal camera platforms designed to be highly customizable and feature some of the latest electro-optical (EO) sensors. The cameras' high-resolution capabilities allow for precise identification and tracking of UAVs, enabling operators to respond quickly to potential threats.
Special Pan Tilt Mechanisms
The long-range camera system platform is an AI-driven operating environment that provides integration of other off-the-shelf platforms and payloads into one centralized system. The highly accurate pan-tilt platform allows users to exchange, upgrade, and add hardware. All added platforms can be centrally managed and, more importantly, continually updated and upgraded with the latest surveillance and threat detection software improvements. The PTZ system provides a sustainable and cost-effective solution without in-factory involvement.
Advanced Analytics Control Long-Range PTZ Cameras
The Kintronics' cameras are equipped with advanced video analytics capabilities that enable them to detect, track, and classify objects in real time. These capabilities are critical for anti-drone applications, as they allow the cameras to identify potential threats and take action to neutralize them. For example, the cameras can detect and track small drones and classify them.
Long-Range Camera Robustness and Reliability
The long-range cameras are designed to withstand harsh environmental conditions and operate reliably in various scenarios. They are rugged, weatherproof, and resistant to interference from other devices. They are also equipped with redundant power supplies, so they can continue to operate even if one power source fails. In addition, the cameras are designed with cybersecurity in mind, with advanced encryption protocols and other security measures to prevent unauthorized access.
Counter-Drone Capability
Earth Observation Positioning: The Pan-Tilt platform can provide high speed and pinpoint accurate positioning using harmonic drive gears. It provides absolute positional feedback for the pan, and, tilt and EO payloads.
Detection: The camera PT platform has been specifically developed to integrate third-party Radar or RF-based detection systems. In addition, the through-shaft allows for the integration of these capabilities to be completely combined into the EO system. By mounting the detection capability in this way, the PT platform can provide continuous, uninterrupted, 360° target tracking.
Tracking: The platform offers a fused-tracking capability utilizing information from a Radar track which is paired with a hardware-based video tracker to ensure smooth and reliable tracking at all ranges and speeds. Other features include centroid and edge measurement.
Classification: The auto-classification capability adds a layer of target intelligence. This allows drone targets to be positively discriminated from other airborne clutter such as aircraft and birds.
Identification: Due to the highly modular format of the long-range camera system, a wide range of EO sensors are available for integration. These sensors include HD lowlight video, MWIR, and LWIR thermal detectors, as well as SWIR sensors. These can be configured to match both performance and budget requirements.
Mitigation: The optional Anti-drone systems provide an effective jamming capability that allows the user to selectively deny control, video, or GPS (or combination) and trigger behavior such as 'freezing' the drone in place, returning the drone to the controller, or forcing the drone to land safely. A range of "soft kill" mitigation add-ons can also provide a useful deterrent when jamming cannot be used. The drone deterrent options include a long-range laser dazzler and white light illumination device that can act as both a deterrent and can also provide helpful target designation capabilities
Summary of Advanced Long-Range Camera Capability
Long-range PTZ cameras with high-precision pan and tilt mechanisms provide the heart of these specialized cameras. The cameras include earth observation positioning, detection, tracking, classification, identification, and drone mitigation features that make them effective in anti-drone activities.
---
If you would like help selecting the best long-range camera system, please get in touch with us at 1-800-431-1658 in the USA or 914-944-3425 everywhere else, or use our contact form.