The New Face of Face Recognition
The pandemic of 2020 has caused all of us to think differently. More than ever, we are concerned about the spread of disease. Some people believe that this concern will last well beyond today's pandemic. Just like the changes that occurred after 9-11, the world will be different in the future.
One way to control the spread of disease is to reduce the amount of surface contact. Biometric systems that use fingerprints, palm recognition, or finger-vein are being replaced by face recognition. This has the advantage of providing contactless or touchless door entry control. This article reviews several new products that use face recognition to control door entry.
Face recognition has been available for many years. The technology was invented in the mid-1960s. The first challenges included how to handle face position and rotation, facial expression, and lighting. Other issues involve wearing glasses, changing hairstyles, or even today's challenge of wearing a protective mask. The latest face recognition algorithms use many mathematical strategies and even 3-D Face recognition to assure accurate and reliable identification.
This is a good time to consider door access control products. The current pandemic and the US government response has opened opportunities for funding from the CARES Act funded through the U.S. Department of the Treasury. The Cares Act provides assistance to state, local, and tribal governments for necessary expenditures incurred due to the public health emergency with respect to the Coronavirus Disease 2019 (COVID–19).
Touchless Door Access Control
The new face recognition systems use more powerful computers with more sophisticated algorithms. The latest reader-controllers use an Android panel that provides increased performance and functionality. Unlike the older door access control readers, all the intelligence is built into the unit. This provides more flexibility since it can be connected to the network or using a Wiegand connection to an older access controller box.
Some face recognition panels can be used outdoors as well as indoors, and others offer additional functions such as measuring a person's temperature and if they are wearing a mask. Here are some examples of the new panels available.
Indoor Face Recognition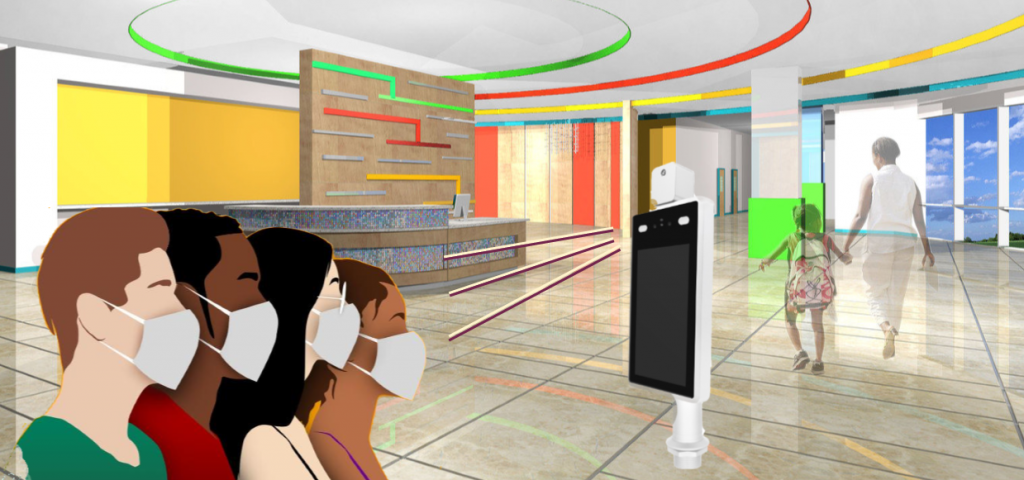 The TVIP-Face5V is a high-performance indoor face recognition reader designed for high-speed recognition. It includes touchless entry control for door access control systems.
Indoor Face Recognition with Temperature and Face Mask Detection
The face recognition panel connects to the network and uses TVIPTirSoft access control management software. It also has a Wiegand connection so it can be attached to an older access controller box.
Outdoor Face Recognition Access Control
Recognizing a face outdoors is the most challenging process. The changing lighting conditions have always made it difficult to provide reliable recognition. The TVIP-Face8WP has been designed to operate in variable outdoor lighting conditions and can survive in harsh weather and a wide temperature range between -22F and 140F. This 8-inch, outdoor-rated panel, has weatherproof IP-68 specifications.
Up to 50,000 people can be registered into the panel. Special door access control software (TVIPTirSoft) is available that allows many panels to share the same database. It also has a Wiegand interface for connection to an access controller.
Face Recognition with Temperature Monitoring
The advanced capability panels provide more than just biometric recognition. They provide body temperature measurement and detect the presence of a protective face mask. These panels include a standard 2-Megapixel camera plus a thermal camera that focuses on the eyes and forehead to read their temperature.
Face and Palm Biometrics Plus Temperature and Mask Detection
The TVIP-MultiBio is a sophisticated panel that is designed for organizations that need to monitor a person's temperature and if they are wearing a mask. The panel can be configured to check if a person's temperature is above a specific limit, or if they are wearing a protective mask. Recognizing a person's face when they are wearing a mask is very challenging. Since this can be a less reliable process, the panel offers the alternative of using palm recognition instead of face recognition.
The TVIP-MultiBio reader provides the first-line alert for people with elevated temperatures. It not only authenticates the people in your organization; it also controls visitors and guests to your facility.
Face Recognition Plus Temperature and Face Mask Detection
The TVIP-FaceBio is a simpler face recognition panel that supports temperature screening and face mask detection. The panel is similar to the TVIP-MultiBio, except it doesn't include a palm reader. It also provides much simpler access control software, so it is best for smaller applications. This panel attaches to the network and can be used by itself or attached to an access control panel through the Wiegand interface.
Face Recognition for Visitor Management
Visitor management and verification have become much more critical in today's health-conscious environment. The new systems include apps for smartphones, verification using face recognition, and QR codes.
The visitor kiosk plays an integral part in touchless visitor management. The ability to schedule a visit, and then confirm the person's identity, in a totally contactless environment increases the safety and security of the organization.
---
If you would like help selecting the face-recognition door access control system, please contact us at 800-431-1658 in the USA, or 914-944-3425 everywhere else, or use our contact form.