Integration of Access Control, IP Cameras, and IP Paging
IP security devices are network-attached appliances such as IP cameras, IP door access control, IP intercoms, and paging. These security devices communicate using IP protocols and share the network with computers, printers, scanners, NVRs, and other network-attached devices.
When we provide interaction or cooperation between two or more devices or agents, we produce a combined effect more significant than the sum of their parts. That's synergy. And that's what we get when we integrate IP camera systems, IP door access control systems, and paging and intercom systems. We provide increased security. This article discusses how these three IP security systems work together.
Evolution of IP Physical Security
Each type of IP security system provided a specific type of security and added safety for the organization. Here's a short review of each of the IP security systems.
IP Camera Systems
IP cameras were introduced in 1996 and replaced analog CCTV cameras. For many years' cameras were the primary security devices, providing surveillance of the organization, parking lots, and roads. They are still used to detect theft, review accidents, and record people entering a facility.  To learn more about the history of video surveillance, please look at our article "The History of Video Surveillance."
IP camera systems are an essential part of the overall security of schools, factories, and hospitals. The latest IP cameras include intelligence that provides immediate notification of security threats.
IP Door Access Control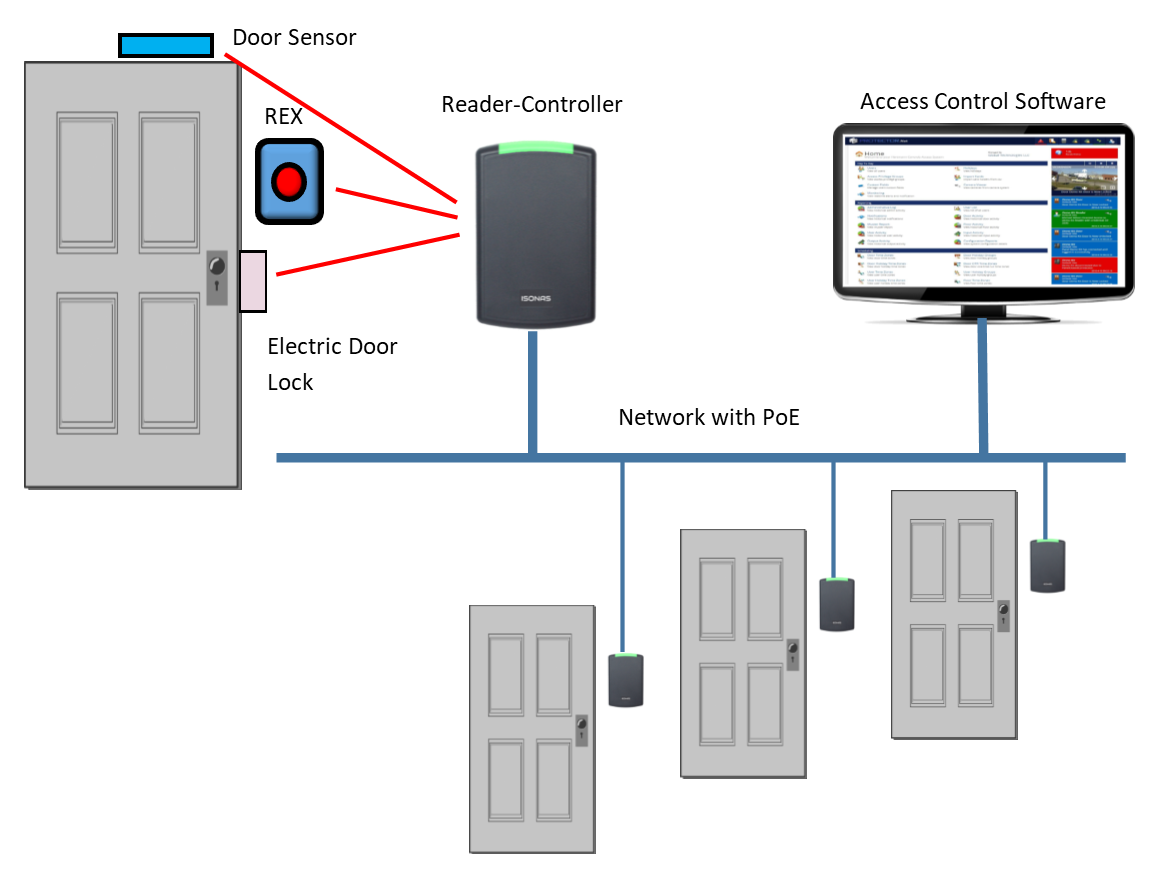 Door access control systems became popular in the 1980s and increased safety by controlling people's entry into an organization. The early door readers used barcode or Wiegand credentials. All these door readers connect to a central access controller. The access control system determined who came in a specific door and what date and time they could enter.
In 1999 there was a significant advancement in access control technology when Isonas introduced the first network-attached IP reader-controller. These door control systems combined the door reader and the controller into one device that was now situated at the door.
The new IP access control systems are replacing the older centralized analog systems. The latest access control systems include the option of using your face or smartphone as a credential providing touchless door entry.
IP Intercoms and Paging Systems
Digital Acoustics introduced network-attached IP Paging and Intercoms in 2004. These network-attached audio devices replaced the older analog amplifier and speaker system. The new IP intercoms and paging devices are powered by PoE (Power over Ethernet), making them very easy to install.
The latest mass notification software provides the ability to make a page from your smartphone and reach people on and off the campus.  
Integration of IP Security Devices
The Integration of IP cameras, access control, intercoms, and IP paging provides a synergy that increases safety and security. The key to the integration of all these systems hinges on the new software available.
Increase Visitor Management Security
Visitor Management Systems gather information, so there is a record of who entered and provide documentation of where the visitor went in the organization. They also provide some safeguards such as criminal databases and do-not-admit blacklists.
Integration of IP cameras and Access Control enables safer visitor management control by providing a visual record and controlling access to critical areas. The IP cameras help watch the visitor areas, while Door Access Control allows the people who work at the facility to enter the door using their credentials.
Monitor Temperature, Masks, and Faces
Biometric panels use built-in cameras to identify a person's face, check for a face mask, and screen for elevated temperature. These temperature screening panels provide additional health safety and use biometric credentials to control who can enter the organization.
Improve Door Access Control Security by Viewing Who Came In
IP camera systems monitor the doors controlled by access control systems, increasing its security. For example, an IP camera records all the people that used their credentials to enter a door. The historical recording can be used to determine if the right person has entered. The integration allows the safety person to check for anyone using a stolen credential.
The Access Control Management software from Hartmann integrates with several video management systems. The integration allows the user to view cameras in the same user interface used to manage the access control system.
IP intercoms are used to control visitors. Adding video allows the security person to see who's at the door. The Talkmaster Focus Video software adds live viewing of an IP camera to the intercom software.
Apartment Intercoms, IP Cameras, and Access Control Integration Improve Building Security
Apartment intercoms add safety features such as built-in cameras. Access control readers allow registered people to enter the apartment house or organization while visitors can use the  IP intercoms to request entrance.
For example, if a delivery person uses the intercom, the person in the apartment can talk and see the person on their smartphone. This ensures that the right person enters and that other people are not let in the facility while the door is open.
Mass Notification Systems
The integration of IP paging systems, IP cameras, and mass notification software ensures that everyone is notified of an emergency. It also provides feedback that allows you to manage lockdowns or evacuation execution. The software uses the IP paging system, text, and other alerts to ensure everyone gets the message.
Integration of IP Security Systems Summary
The convergence of IP Paging and Intercom system with IP cameras and door access control provides increased security. The IP cameras provide immediate awareness of access to all the doors, while intercoms control the visitor entry. Mass notification systems work with all the other systems to provide increased safety during emergencies.
---
If you would like help selecting the IP security systems, please contact us at 800-431-1658 in the USA, 914-944-3425, everywhere else, or use our contact form.