Comparison of Surveillance Cameras for Your IP Camera Systems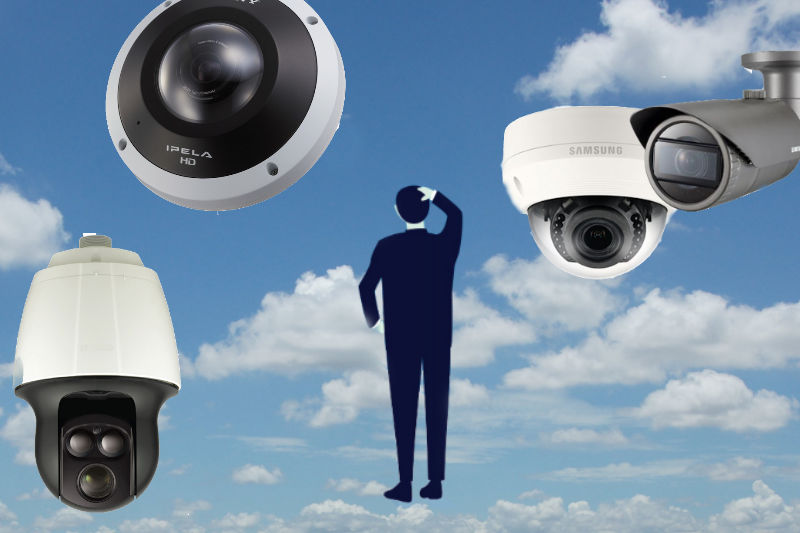 To determine the best surveillance camera, you must first understand your objectives. The purposes of your surveillance system include increased safety, reduced theft, improved productivity, or reducing liability. It also includes how quickly you need to be notified of an alarm condition.
Do you want to know when a person steals the laptop from the desk or leaves an unattended package, or do you need to record what happens in the parking lot?
This comparison of IP cameras focuses on the cameras. The camera is only one part of the IP camera system. The complete surveillance system includes a video recording and management system, network switches, and video storage system.
Objectives for IP Camera Systems:
Do you want to be alerted of danger, or do you only need to record the video for later review? These are very important considerations. Your objectives affect the price and performance of your surveillance camera system.
Do you want to be alerted of danger, or do you only need to record the video for later review? These are very important considerations. Your objectives affect the price and performance of your surveillance camera system.
Safety and security have become a very important objective for surveillance camera systems and the latest intelligent IP cameras provide advanced analytics that increases your security. The cameras become your first line of defense against active shooter situations and increased domestic terrorism. Alternatively, you may only need to record the video to determine how many people are in the store or working in the office.
In all cases, the surveillance camera has to have a certain level of performance to meet your objectives. Some of the features we compared include resolution, low-light capability, wide dynamic range, distance from the camera, indoor or outdoor environment, intelligence (or analytic functions), and of course, the price.
In general, IP Cameras that are used for historical recording and review do not have analytic functions and are less expensive. The higher priced surveillance camera can trigger an alarm if an object crosses a line, or if someone leaves a package in a busy terminal. They also include better video processing that improves the video clarity. Our article Defining Your Objectives provides more details about setting your objectives.
IP Camera Systems for Historical Recording
We reviewed the IP cameras based on their cost, the resolution or detail required, and the lens. The lens determines how far away you can see something. The resolution determines how wide a field of view (FOV) you can see at the same detail (resolution). The price determines the capability and performance of the cameras. For example, you will pay more for a variable-zoom lens, very low-light capability, or analytic video features. If you want to detect a person screaming, it will cost more. IP camera systems can include a variety of different cameras. Each surveillance camera is selected based on the unique requirements defined by the specific requirements of each location.
Here are the recommended IP cameras for specific applications:
The Best Low-Cost IP Camera
The lowest cost surveillance cameras are used indoors in small areas. Even though 1-Megapixel IP cameras are the least expensive, the price difference for a higher resolution camera is so small that it is not worth getting anything less than a 2-Megapixel IP camera. Cameras with a fixed lens are the least expensive. They are usually used in surveillance areas such as small rooms and corridors. The starting price for an inexpensive IP camera is between $150 and $200. There are lower priced consumer grade cameras available, but the video quality is too low for commercial applications. Take a look at our article, IP Camera Price Versus Performance to learn more about what you should expect to pay for your IP camera system.
We reviewed low-cost IP cameras from Axis, Hanwha, and Hikvision. Note that you can use many different types of cameras in your IP surveillance system.
This indoor IP dome camera comes with a fixed 6 mm lens and IR illuminator. It is one of the lowest priced cameras with decent specifications. The camera is also available with 3 mm, 4 mm and 3.1 – 10 mm variable lens. It is ideal for hallway applications because it has a "corridor view" setting. This setting provides a longer view down the corridor by turns the image 90-degrees so that the long dimension is vertical rather than horizontal.
Axis M3015
The Axis IP camera is the most expensive, but it has the smallest form factor. The dome camera is a discreet IP camera that is designed to be mounted in a drop ceiling. This model doesn't include IR illumination, so it is best used in a room with adequate lighting.
Hikvision DS-2CD2125FWD-I (We no longer sell Hikvision Cameras because of Government Restrictions)
The small dome IP camera is excellent for small rooms with low light. It provides low-light sensitivity of 0.008 lux in color. It also includes an IR illuminator for operation in total darkness. You can select from a number of different fixed lenses such as 2.8 mm, 4 mm, 6 mm, and 8 mm.
The IP Camera with the Best Lens
We compared 2-Megapixel cameras with variable lenses. The cameras we selected have variable lenses that allow you to adjust the field of view. There are manually adjustable variable lenses and remote zoom lenses that are motorized. The remote zoom variable lens costs more but makes installation much easier. The motorized lens allows you to adjust the field of view after the camera has been installed.
The lens determines how far away you can see something. Pan tilt zoom (PTZ) cameras have motors that not only adjust the zoom lens, they also move the camera up and down (tilt), and from side to side (pan). They include the longest magnification (or zoom).
The lens determines the distance from the camera to the specific Field of View (FOV). All the 2-megapixel cameras can identify a license plate in a FOV that's 38 ft wide, and identify a person's face in a FOV of 19 ft. If you select a higher resolution camera, the FOV becomes wider at the same distance. Here are the best 2-Megapixel cameras recommended based on their lens capability.
Cameras with Remote Adjustable 4X Zoom Lens
We compared the Hikvision 2-Megapixel camera to the QNV-6070R from Hanwha and the Axis P3225-LV MkII dome camera. The Hikvision DS-2CD2725FWD is better than the Hanwha camera because it includes a motorized zoom lens (the Hanwha camera is manually adjustable). The Axis IP camera has a remote zoom lens but is about twice as expensive as the Hikvision IP camera.
The Hikvision dome IP camera can be used indoors or outdoors and includes a remotely adjustable 4X lens that ranges from 2.8 mm to 12 mm. At the 12 mm setting, the lens provides an angle of 35⁰. The camera includes an IR illuminator for viewing objects at night that are up to 98 ft away (30 m) away. Based on this lens angle, the furthest distance we can identify a license plate number is about 63 ft away. As we get further away, the field of view gets too wide to see the details we need to see.
IP Cameras with Extended Zoom Lens
IP cameras with extended range zoom lenses are available from Axis, Hanwha, and Hikvision. For example, the Axis Q1765-LE has an 18X zoom lens. Unfortunately, this camera costs over $200 more than the Hanwha XNO-6120R (with a 12X lens). We selected the XNO-6120R IP bullet camera because of its 12X zoom lens, built-in IR illuminator, and enhanced video analytics. The camera is also available as a dome IP camera. The 5.2 ~ 62.4mm lens provides a minimum angle of 5.3°. This zoom lens allows you to read a license plate number that's 400 ft away. It can also be used to identify a person's face about 200 ft away. The camera includes an IR illuminator that reaches about 225 ft (70m) away. This is the right camera for your IP camera system when you need to add license plate recognition (LPR).
PTZ Camera with a Very Wide Range of Zoom
PTZ cameras are available from all the manufacturers. We compared some of the low-cost PTZ models that are available from Axis, Hikvision, and Hanwha. We selected the Hanwha SNP-L6233H PTZ camera because it includes an IR illuminator which is not available from Axis. The Hanwha IP PTZ camera also provides the best cost-performance when compared to the Hikvision and Axis models.
The Hanwha PTZ camera includes a 23X zoom lens that allows you to see objects that are further away than the fixed lens cameras described above. It also includes a long-range IR illuminator that allows you to see over 328 ft (100 m) in total darkness.. The camera includes a zoom lens with a 23X range of 4.4 to 101 mm. With a minimum lens angle of 3.1-degrees, you can read a license plate that's over 700 ft (200 m) away, and identify a person's face that's about 350 ft (107 m) away. There are other PTZ cameras with even longer zoom capability.
The Best High-Resolution IP Cameras
The resolution determines the detail you will see in a specific field of view (FOV). The field of view (FOV) is how wide an area you can see. The higher the resolution, the wider the field of view (at the same detail). The lens determines how far away you can see the same object.
To calculate the field of view, we first determine how many pixels/ft we need to see a certain detail. For example, we need about 50 pixels/ft to read a license plate. The 2-Megapixel Camera such as the Hanwha QNV-6070R allows us to read a license plate number, in a 38 ft wide field of view. To identify a person's face, we need about 100 pixels/ft. The 2-Megapixel cameras provide a field of view that's about 19 ft wide.
Higher resolution cameras provide a wider FOV than lower resolution cameras. For example, a 4-Megapixel camera increases the FOV from 38 ft to 52 ft wide. One problem associated with higher resolution cameras is that the low-light sensitivity tends to be worse at higher resolutions. Some manufacturers provide reasonably good low-light sensitivity even at the higher resolution. Here are our suggestions for the higher resolution cameras.
4-Megapixel IP Cameras
Both Hikvision and Hanwha have 4-Megapixel cameras. There are also 5-megapixel cameras, but the latest 4-megapixel cameras provide similar resolution at a better price. We like the Hikvision DS-2CD2745FWD-IZS and the Hanwha QNV-8070R. These are very similar cameras with 2.8 to 12mm remote zoom lenses. The low-light sensitivity of the Hikvision IP camera (0.01 lux)was slightly better than the Hanwha IP camera.
The Highest Resolution 4K IP Cameras
The highest resolution IP cameras we reviewed are called 4K cameras. 4K cameras are supposed to provide at least 4,000 pixels in the horizontal direction. With that in mind, only Hanwha and Sony have cameras that meet this definition. Cameras from Hikvision, Axis, and Panasonic use 8-Megapixel sensors with 3840 horizontal pixels. The Hanwha PNV-9080R uses a 12-megapixel sensor, and the Sony SNC-VM772R uses a very large 20-Megapixel sensor.
Based on price and performance, the Hanwha PNV-9080R camera is the best choice. The high resolution allows you to read a license plate in a field of view of 82 ft and identify a person that's 41 ft away. The IR illumination has a range of over 130 ft (40m). The camera provides low-light sensitivity of 0.3 lux. The very high-resolution camera is an excellent choice for your IP camera systems when you need to view a large area.
IP Surveillance Camera Systems for Security Alerts
Do you want to know when a package was left unattended in the lobby, or when someone takes the laptop off the desk, then cameras with intelligence or video analytics are required. The more advanced cameras can even alert the safety officer if someone screams or a gunshot is detected.
The IP cameras that provide immediate notifications are part of a complete IP camera system. To receive real-time emergency alerts, they must be used with video management and recording systems that can also handle these alerts.
The alarm from the camera is sent to the video management software where the security person is notified of a threat by an alarm sound, and the video from the intelligent IP camera. Video management software that can handle immediate notifications includes Ocularis 5 from OnSSI and WAVE from Hanwha.
Both Hikvision and Hanwha have IP cameras with very sophisticated analytic functions. The built-in intelligence detects real-time events and can alert you the moment an event is detected. The advanced processing not only provides the intelligence, but it also improves the video performance. To learn more about intelligent IP cameras take a look at our article The Intelligent IP Camera.
Select the Hikvision Smart Series camera if you need video analytic capability and very low-light performance. This Hikvision 4-Megapixel dome is an excellent addition to your IP Camera system. It uses the new Hikvision "Darkfighter" technology that enhances low-light sensitivity. The camera is rated at 0.002 Lux (with f/1.2 Lens). The camera provides behavior analysis such as Line crossing detection, intrusion detection, region entrance detection, region exiting detection, unattended baggage detection, object removal detection. It also includes exception notification such as scene change detection, audio exception detection, defocus detection.
Select the Hanwha X-Series cameras for the advanced analytic capability and sophisticated video processing. The camera is more expensive than the Hikvision camera but provides some excellent capability that can be crucial for your safety and security. It is an excellent choice for all IP camera systems that need emergency alerts.
The Hanwha XNV-8080R is a 5-megapixel camera that includes some significant analytics such as loitering, directional detection, defocus detection, fog detection, virtual line, Enter / Exit, (Dis)Appear, audio detection, face detection, motion detection, digital auto tracking, sound classification.
It can detect audio alarms such as an explosion, glass breaking, gunshot or a person screaming. It is also the best choice if you need digital image stabilization that includes a gyro sensor. If you plan to mount the camera on a pole or anywhere there can be vibration, select this IP camera. The highlight compensation feature blocks the overexposed areas caused by headlights, which makes it a good choice when you need license plate recognition.
Summary of What is the Best Camera for Your IP Surveillance System
The best surveillance camera depends on your requirements. The least expensive IP cameras have fixed lenses, while the most expensive provide the enhanced capability that can be very important to improving your security. Cameras are part of a complete IP camera system and sometimes are integrated with IP intercoms and door access control. They can also be used with personal mobile panic buttons that can be used for immediate notification of emergencies.
For assistance in selecting the right surveillance camera, contact us at 800-431-1658 in the USA, or at 914-944-3425 everywhere else, or use our contact form.